Over the past few weeks, we have been looking for direction. Either the underdogs to keep winning or the reversal to occur. It hasn't happened, but we have been careful to remain profitable through the uncertainty.
Part of this comes from recognizing 'traps,' while the other part is scaling back how aggressive we can be. To that point, you may have noticed that, after a few weeks of routinely listing seven or eight confidence picks, we have hovered around six or seven. Indeed, this is partly due to fewer games being played – and I try not to devalue confidence picks by listing more than half of the games as such in a given week – but it is also a necessity to not give back some of our fantastic gains.
Amazingly, this week appears to be another in a long stretch in which underdogs have the edge. Therefore, if we are waiting for a signal that the current trend is reaching its apex, it isn't clear. If anything, we might get more of these scattered results, in which teams are giving value more than the overall outlook of the league.
We shouldn't mind this. Because, if we can't spot the exact direction of the overall landscape, we can still remain locked into which teams are repeatedly burning those who try to chase them.
And we can remain on the right side of them.
Listen to Episode 3 of Sporfolio's free podcast here:
Below are predictions for each game against the spread. Spreads have been taken from various websites and are subject to change. The spread in parenthesis denotes the selected team. An asterisk denotes a confidence pick.
*Confidence Picks – 2018 Season: 26-14-2 (Last Week: 3-2-1)
(2017 Season: 53-48-4) (2016 Season: 53-67-3) (2015 Season: 69-45-2) (2014 Season: 61-46-2) (4-Year Total: 236-206-11)
All Picks Against Spread – 2018 Season: 52-34-7 (Last Week: 8-5-2)
(2017 Season: 137-119-11) (2016 Season: 123-136-8) (2015 Season: 143-117-7) (2014 Season: 149-114-4) (4-Year Total: 552-486-30)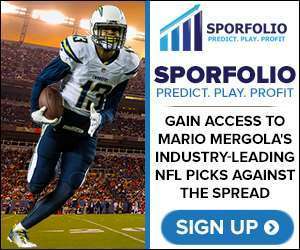 New England Patriots at Chicago Bears
If there's one thing we've come to learn over-the-years, it's that the New England Patriots are not susceptible to the same pitfalls of other teams. Which means they don't walk into 'traps.' Still, when one appears, it is my responsibility to highlight it.
Sunday's game against the Chicago Bears is a 'trap.' New England just pulled off an impressive, nationally televised win against arguably the other best team in the AFC. It was a combination of dominant at times, worrisome, but controllable. Through each ebb-and-flow, the Patriots either rolled with the punches or struck back. In the end, they emerged victorious.
Conversely, faced with a gift of a matchup with Brock Osweiler due to the injury to Ryan Tannehill, the Chicago Bears laid an egg. A 4-1 record – which would have been good for second-best in the conference – was within reach in a winnable game, and Chicago failed to capitalize on multiple attempts.
When these two teams meet on Sunday, the spread will be right around three points. This is the textbook definition of a 'trap.'
As stated earlier, New England has an uncanny ability to not fall victim to such events, and this is the most likely explanation as to why the spread moved from one side of the field goal – two-and-a-half points – to the other – three-and-a-half points. It's protection in the event that the Patriots refuse to play along with the numbers.
For that reason, we can't be too aggressive when targeting New England. An outright win by the Bears is not likely, and we won't be going against the Patriots with a confidence pick. We will, however, trust the numbers.
New England has now scored at least 38 points in three consecutive games. But, all three games were at home – two of which on Primetime. What's more interesting is that the Patriots have now moved into the top-five in points-per-game, but sit in the middle-of-the-pack in yards-per-game – 14th overall. Chicago's defense has a similar dip in production coming, but it is first in the league in takeaways, where New England's offense ranks 21st in the same category.
The original spread in a statement about how close the game will be, but the Patriots are still taking steps forward and putting the memories of 1-2 start in the rearview mirror. New England wins by two points, but Chicago beats the spread.
Prediction: Chicago Bears (+3.5)
Carolina Panthers at Philadelphia Eagles
It's the nature of a 16-game regular season, but momentum is a powerful force. The Philadelphia Eagles stumbled into Week 6, were small favorites against a terrible Giants team, and return to championship form. The Carolina Panthers survived a nail-biter with the same Giants team, but lost in Washington in a game in which Carolina was largely noncompetitive until the end.
Momentum has carried through to Week 7, and it hasn't just moved the spread in Philadelphia's favor, but moved it by an even greater number since its open. All because the Panthers lost and the Eagles won.
Should we rip apart these outcomes? Obviously.
The Eagles beat a division team. A bad division team that might have reached its breaking point. We cannot get too excited about this. Meanwhile, Carolina walked into a 'trap.' Two teams with outcomes we love. And a moving spread that disagrees.
Prior to last week's 34-point outburst, the Eagles had not scored more than 23 points in a single game. Even with last week's game included, Philadelphia ranks a pedestrian 20th in points-per-game. Carolina's defense ranks 10th and 14 in points and yards-per-game.
On the other side of the ball, the Eagles have a false strength in their run defense. The team has allowed the second-fewest yards on the ground, but it has also faced the fewest rush attempts. In terms of efficiency, however, Philadelphia is 13th. And Carolina ranks sixth-best in this category.
The saving grace for the Eagles is that Carson Wentz is healthy enough to not be a liability. I had argued that the return from his knee injury was concerning in the first few weeks of his season, but he has now gone three consecutive games with multiple touchdown passes but no interceptions. With this level of quarterback play, a victory is attainable. Just not a big one.
The Eagles win by a field goal, but Carolina beats the spread.
Confidence Pick: Carolina Panthers (+5.5)
Click here to sign up for Sporfolio to see the rest of Mario Mergola's NFL picks against the point spread. Mergola finished with the highest total of correct NFL picks against the spread for 2015 and 2016 – tracked by NFLPickwatch, and finished 2015 with an accuracy of 60.53% for his confidence picks. His 4-year record for all NFL games against the spread is 552-486-30!
Photo Credit: Keith Allison, Flickr, C.C 2.0