It's here! It's finally here!
I feel like a holiday just arrived. Or a gift. Or a package from Amazon for which I did not pay shipping – not directly, anyway.
Football season is finally back, and I am bursting with excitement. Gone are the preseason debates. The position battles. The meaningless games. Everything from this point on means something.
And to us, the collection of individuals made up of the author and readers of these columns, it means a lot.
It means that we get to spend this time together, every week. That we share in each other's joy when the underdog pulls off an upset that "no one saw coming." That we weep when a meaningless touchdown crushes our pick. That we regroup, each-and-every-year because we know that, at the end of the day, we get the National Football League. It's ours.
I start there because each season has its own personal storyline both for the league and for me. Years ago, it was my article being featured on AOL Sports. Then it was success that we shared together atop the leaderboard of NFLPickwatch. After that, it was my adventure in opening this new website and subsequently having the worst year on record. And then it was redemption in 2017, proving that said 'down year' was, indeed, an outlier.
If you've stayed along for the ride through the dark days, then you've seen how bright it gets and you are undoubtedly here for the long haul. I appreciate that more than you will know, and it's why I can't ever imagine not writing these columns.
This year is just about football. Gone is the mission statement to "rebound" or the growing pains of a new website. Weeks ago, I sat down with a magazine in one hand and a coffee in the other, and I haven't stopped writing since. Because, at the end of the day, writing about football makes me happy, and knowing that others can profit from my words gives me genuine excitement.
So here we are, ready to dive into the first week of the 2018-2019 season, and we are met with the same resistance as every year. That is, what will each team ultimately be by the time the season ends? Or even when September ends?
The good news is that we actually know what's going to happen. Maybe not exactly. But we have an idea. And one of the most fun elements of predicting the outcomes of Opening Week is in looking ahead to the aftermath.
What happens if the Patriots lose, like they did, last year? The sports media is sent into hysteria. Or if a rookie quarterback goes on-the-road in front of a national audience and wins? Immediate Hall-of-Fame induction. And if the defending champions lose their Opening Night game? The following few days will be spent solely on how quickly the run has ended, how the team needs to 'rebuild,' and all the failings of former Super Bowl MVP Nick Foles.
Football is fun, isn't it?
Actually, yes. Because it's our job to see this before it happens. To know that Sam Darnold and the Jets will be good. Or that Buffalo is about to collapse. Or that the New England Patriots are still the franchise which never wavers in its operation, regardless of public pressure.
It's our job to not take the outcomes of the games too seriously because we have a pretty good grasp on what should happen. And, if we're wrong, there is plenty of time for everything to balance out and for us to find ourselves on the winning side.
We usually do.
Below are predictions for each game against the spread. Spreads have been taken from various websites and are subject to change. The spread in parenthesis denotes the selected team. An asterisk denotes a confidence pick.
*Confidence Picks – 2018 Season: — (Last Week: —)
(2017 Season: 53-48-4) (2016 Season: 53-67-3) (2015 Season: 69-45-2) (2014 Season: 61-46-2) (4-Year Total: 236-206-11)
All Picks Against Spread – 2018 Season: — (Last Week: —)
(2017 Season: 137-119-11) (2016 Season: 123-136-8) (2015 Season: 143-117-7) (2014 Season: 149-114-4) (4-Year Total: 552-486-30)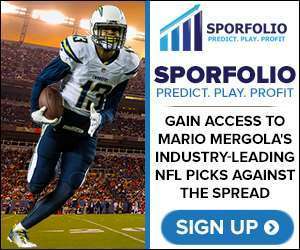 Pittsburgh Steelers at Cleveland Browns
I like numbers. Always have. Always will.
I also like stories. I'm a writer. Not too in love with longs walk on the beach, though. Too hot.
When numbers tell a story, I'm excited. It's like some poet created a rhyme that only I – and those who think like I do – get. An inside syntax without letters.
Here's a story for you.
A team that is 'always good' is playing against a team that is 'always bad.' The spread for the game is right on the verge of being large. But, we can justify this. The 'always good' team has a few superstar players. The 'always bad' team does not.
In the part of the story where the two teams are preparing for battle, news breaks that one of these superstars on the 'always good' team is choosing to abstain from fighting. The reason is irrelevant. He won't be there. 'Always good' team sends spies to make sure he isn't working with the enemy. He isn't. He's just resting. There will be other battles, after all.
The spread moves down.
You tell me, dear reader. Did the spread move because of this superstar's absence?
Wrong! I know you said, "Yes." Or thought it, anyway. And if you didn't, well, then, good for you. But don't lie to me.
You probably thought the spread moved due to Le'Veon Bell's reported absence because the oddsmakers want you to think the spread moved because of his absence. But, in reality, we all knew there was a real possibility he would miss the game anyway.
That's the game that is played with spreads.
That's the story the numbers tell.
It's a facade. A false positive to give comfort where it should not exist.
The concept of moving a spread down is to make the favorite look more enticing. In the case of the Pittsburgh Steelers, it's to parry the fear that Bell's absence is, indeed, worrisome. The oddsmakers assume that the general fan will see the original spread of five-and-a-half, think it's fine, then hear about Bell missing the game and start to worry. That's a decently sized number. Then, upon further inspection, this same fan sees the spread at a digestible four points. Stomach is settled. Pick is in. Go Steelers!
Not for us. If we can read this story, we know the ending. Of course, the oblong pigskin might disagree, but this is why we make 267 picks against-the-spread, each year. And why we usually come out ahead-of-the-pack.
The Cleveland Browns win by a field goal and beat the spread.
You read that right.
Prediction: Cleveland Browns (+4)
Jacksonville Jaguars at New York Giants
Imagine you are tasked with setting the spread for a particular game. On one side, you have a team that finished last year 10-6, first in its division, winner of two playoff games, and with a top-two defense in both yards and points allowed. On the other side, you have a formerly 3-13 team that just gave its biggest troublemaker a contract extension and is doing everything within its power to prove to its 37-year-old quarterback that he is still the unquestioned starter.
Where do you land with the spread? Ten? Seven? Maybe six since the favorite will be playing on-the-road?
Or three, as is the case in the real world.
How can this be? Every statement I gave about the Jaguars is based on facts. Certainly, the comments about the Giants might have been based in opinion, but at least one side indisputable.
Or, really, have we reached the point where the Jaguars can open a season as road favorites?
I often argue that name recognition plays a large role in the spread, but we are looking at the rare example where the team's history is being ignored. Both teams' histories, really, as 2017 was a major outlier compared to recent years for each.
The only plausible explanation – and the most likely reality – for the small spread is that the Jaguars are not as good as their 10-6 record from last year, nor are the Giants as bad as their 3-13 record. But, the spread can't be so blatantly obvious, as any objective onlooker would have pegged the number much higher.
The Giants win by a single point and beat the spread.
Confidence Pick: New York Giants (+3)
Click here to sign up for Sporfolio to see the rest of Mario Mergola's NFL picks against the point spread. Mergola finished with the highest total of correct NFL picks against the spread for 2015 and 2016 – tracked by NFLPickwatch, and finished 2015 with an accuracy of 60.53% for his confidence picks. His 4-year record for all NFL games against the spread is 552-486-30!

Photo Credit: By AJ Guel (originally posted to Flickr as Thread the Needle) [CC BY 2.0], via Wikimedia Commons