Week 9 includes another 13-game slate of action, but it is peppered with 'traps' throughout. This offers the opportunity to 'buy-low' on 'sneaky' teams who have the potential to surprise. And, with no early game in London and Thursday already behind us, we get 12 games from which to choose.
Sporfolio's NFL Daily Fantasy Sports game-by-game analysis columns are driven by expected game flow. Based on a combination of our Week 6 NFL picks against the spread and our expectations for a given game, we project the actions necessary to make these picks come to fruition. We aim to pinpoint players integral to our predicted game flow for each game of the week.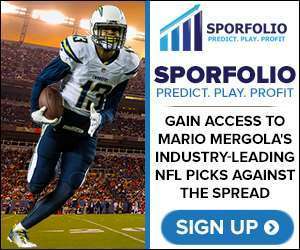 Luke May is Sporfolio's NFL DFS expert, and Mario Mergola operates Sporfolio as the expert for NFL Picks Against the Spread.
Atlanta Falcons at Carolina Panthers
Luke's DFS Take: The trade of Kelvin Benjamin is certainly a peculiar move when you consider that he was arguably the top weapon for Cam Newton, and this team is deeply involved in the current playoff picture. So why trade a young talented player who adds a lot to your lineup for draft picks that could never pan out? That is a question I simply don't have an answer to. What I do know is that with Benjamin's departure, Christian McCaffrey and Devin Funchess have that much more value as they will likely see a ton of targets week to week. Curtis Samuel becomes an interesting flyer at just $3,100 due to his speed and potential to make big plays with an expanded role in the offense. The Falcons offense has been struggling of late, but with the talent they have you would have to think they are due to break out soon. I will probably keep rostering Julio Jones until further notice because his lack of success is appalling, and with the offense struggling, getting him the ball makes a tremendous amount of sense. That and his price is down to $7,800 which has to be the lowest price he has ever been available for.
Mario's DFS Take: I wrote about it in my picks article, but I still find the statistic amazing. In the last five meetings between the Falcons and Panthers, the smallest margin-of-victory was seven points. The margins-of-victory in these matchups averaged out to 21.6 points-per-game. The winner wins big. With Carolina's defense soaring – top-five in both points and yards allowed – and Atlanta's offense struggling – scoring an average of 16.5 points-per-game over its last five games – the Panthers' offensive players get the nod. The departure of Kelvin Benjamin slides Devin Funchess into a major role, while Cam Newton, Christian McCaffrey, and Ed Dickson remain top picks for their respective positions. Atlanta's defense only ranks 15th in points-per-game and dead last in takeaways.
Los Angeles Rams at New York Giants
Luke's DFS Take: Both teams here are coming off of a bye week which should mean that both teams are fully prepared for their opponent. They surely know their gameplans, and the weakness of their opponents in which they can attack. What they will likely have found is that both teams rank in the bottom third of the league in run defense. This should point us towards considering running backs on both teams, naturally, but I have a hard time getting excited over the Giants running game. The return of Paul Perkins, despite his bad start to the season, clouds an already murky situation in the Giants backfield. With that, we turn to Todd Gurley who continues to impress. Gurley has recorded at least 100 rushing yards in four of his last five games, with the only failed game being the grudge match against Seattle. Gurley should be extra fresh coming off of a bye week which should mean he will see plenty of work in this one. He should have no problem making the most of those opportunities, and remains an elite option this week.
Mario's DFS Take: Every week, I fall in love with a team ready to shock via an 'upset.' In Week 9, said team is the New York Giants. It starts from New York's defense and, although it is a high risk-reward play, I probably won't take the chance – there are other options. It will, however, knock out Los Angeles' high-flying offense and limit its skill position players. This puts the Giants' offense in a nice position against a beatable defense, especially on the ground – the Rams are allowing the sixth-most yards-per-rush and second-most rushing touchdowns. Orleans Darkwa is an incredibly sneaky 'sleeper,' although we run the risk of New York abandoning the run game as it is prone to do. Eli Manning will need to perform in order to complete the 'upset,' and he has great value for a low price. Evan Engram slides in as a top tight end option, as well.
Read More Daily Fantasy Football Content On Sporfolio for a full breakdown of every NFL game