Now one-quarter into the season, we have reached our first scheduled set of bye weeks – of course, Tampa Bay and Miami were forced into a makeshift bye week on Opening Day due to Hurricane Irma – and, as a result, we only have 13 games to assess. Thankfully, there are some fantastic matchups – as well as a few potential lopsided affairs – that create reasonable expectations in terms of game flow. As an added bonus, we even have a pair of night games that can provide immense value in Primetime tournaments if played properly.
Sporfolio's NFL Daily Fantasy Sports game-by-game analysis columns are driven by expected game flow. Based on a combination of our Week 5 NFL picks against the spread and our expectations for a given game, we project the actions necessary to make these picks come to fruition. We aim to pinpoint players integral to our predicted game flow for each game of the week.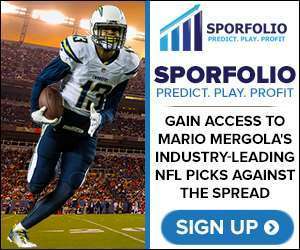 Luke May is Sporfolio's NFL DFS expert, and Mario Mergola operates Sporfolio as the expert for NFL Picks Against the Spread.
Seattle Seahawks at Los Angeles Rams
Luke's DFS Take: The NFC West battle between the Seahawks and Rams figures to be one of the more exciting games of the week as these two teams always provide great entertainment when they meet up. The Rams have certainly looked like the better team so far this season, but I'm going to take my chances and say Seattle goes into LA and steals a win from the Rams. With that said, that will not scare me off of continuing to roster Todd Gurley. Gurley continues to play like the absolutely beast that he is, and actually has a good matchup considering how much worse the Seahawks' run defense is in comparison to their pass defense – sixth-worst versus fourth-best – in terms of yards-per-game. Gurley will also likely be heavily involved as a checkdown as receivers will likely struggle to find many openings. After last week's game, I was excited about possibly jumping onto a cheap Eddy Lacy who looked good last week after Chris Carson went down, but hearing Pete Carroll say that Lacy and Rawls will split the running work – and CJ Prosise is likely returning this week – this backfield is once again unplayable. I expect the Seahawks to win, which means they will have to score, but their shaky offensive line will have their hands full this week against Aaron Donald and a tough Rams defensive line. That matchup makes it hard to love Russell Wilson or any other member of the offense. Outside of Gurley, this game feels like one that will be a fantasy disappointment to me.
Mario's DFS Take: There is definitely a weird element about seeing the Seahawks getting a point in the spreads from Los Angeles, but it can be explained away easily enough by the fact that the Rams have beaten the Seahawks in three-of-their-last-four meetings. And, if that weren't enough to convince me we are in an alternate reality, the Rams' offense has the fifth-most yards and most points in the league, while the defense has allowed the fifth-most points and six-most yards. Enter Seattle's offense, still trying to stabilize itself behind a weak offensive line. Russell Wilson would have battled Cam Newton for my play-of-the-day in Week 4 if his Sunday Night Football game was included in the main slate on DraftKings, and he remains near the top of my list in a favorable matchup in what-could-be a high-scoring game. The bonus to Wilson is that he doesn't need a high-scoring game to deliver value, as Seattle only has one offensive touchdown that has not included the team's quarterback. He is the man through which the offense runs, and he is gameplan-proof on Sunday.
Minnesota Vikings at Chicago Bears
Luke's DFS Take: It only took four weeks, but the Mike Glennon experiment is over, and it is officially Mitchell Trubisky's offense in Chicago. The rookie has a tough matchup in his first ever start, and is certainly lacking significant talent around him, but I'm expecting a pleasant surprise from the kid. He showed great control through preseason, and while this is a different ball game now, football is football and if he can make plays then, he should be able to do so now. The fact that this game is in Chicago should also help him out as he will have the support of every Bears fan in the building and not have to worry about dealing with a hostile opponents crowd. Both Tarik Cohen and Jordan Howard should see heavy usage in this game as they are the two most talented playmakers in this offense. This could certainly be a high volume game for Cohen as the Bears will likely be in many passing situations against this tough defense, and the rookie quarterback may feel most comfortable checking down to his fellow rookie instead of forcing throws into coverage. The Vikings' offense has been more inconsistent than any other group this year, having two very games with 29 or more points, and two games with less than ten points. They are now without workhorse back, Dalvin Cook, which leaves Latavius Murray as the lead back. Murray will be hard to trust as he has been ineffective in his opportunities and will likely share work with Jerick McKinnon. The lack of ground game will put more work in the hands of Case Keenum, assuming Bradford doesn't have a miracle recovery by the end of the week. While Keenum is far from great, he has been decent enough to keep both Stefon Diggs and Adam Thielen relevant. Both guys figure to be busy and at least solidly productive against a middle-of-the-road Bears defense.
Mario's DFS Take: We end the week with my favorite matchup of the weekend. And, the value comes from the 'sleeper' side of the game, in which the low expectations gives us a sneaky opportunity to thrive in Primetime formats. Before I dive into the players, consider this general question: which team's defense is better, Chicago's or Minnesota's? By virtue of me asking a question to which I cannot hear the answer, it should be clear that it is intended to deceive. I wouldn't ask it if the answer were easy. So, yes, Chicago's defense is the one that wins the head-to-head metric I use most – yards allowed. You may disagree, but don't completely overlook how well the Bears' defense has played. Then, throw in the bonus that the Vikings are still likely without Sam Bradford and now Dalvin Cook, and we have our first edge. I'll be starting the Bears' defense in my Primetime slate and consequently avoiding all off Minnesota's offensive players. Switching sides, the obvious storyline from Chicago is the announcement that rookie quarterback Mitchell Trubisky will get the start. Against Minnesota's defense, this isn't the best place for Trubisky, but the Vikings have actually allowed the ninth-most passing yards in the league. We can safely assume that the Bears will fit their offensive gameplan around limiting the risks Trubisky will take – Chicago had extra time between games, as it last played on Thursday in Week 4 and won't take the field again until Monday of Week 5. This brings running back Tarik Cohen in to the fold, and he is a pass-catching machine out of the backfield and actually leads the team in targets with 29. I have no hesitation using either Trubisky or Cohen in my Primetime lineups.
Read More Daily Fantasy Football Content On Sporfolio for a full breakdown of every NFL game
Photo Credit: By Larry Maurer [CC BY 2.0], via Wikimedia Commons