With Thursday Night Football already behind us – and an entertaining one, at that – and an early Sunday morning game in London, we have 14 games ahead of us for a busy DFS Sunday – and Monday Night. As usual, with such a large slate, it is relatively easy to find matchups that set up perfectly for an expected game flow in one-direction-or-another. It is no surprise, therefore, that we have another in depth column that is almost as long as last week's epic – which tallied nearly 8,000 words.
Sporfolio's NFL Daily Fantasy Sports game-by-game analysis columns are driven by expected game flow. Based on a combination of our Week 3 NFL picks against the spread and our expectations for a given game, we project the actions necessary to make these picks come to fruition. We aim to pinpoint players integral to our predicted game flow for each game of the week.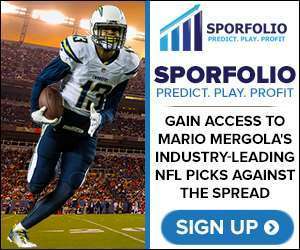 Luke May is Sporfolio's NFL DFS expert, and Mario Mergola operates Sporfolio as the expert for NFL Picks Against the Spread.
Read More:
Week 3 NFL Picks Against the Point Spread
New York Giants at Philadelphia Eagles
Luke's DFS Take:   So, Carson Wentz has now had two good fantasy games in a row. Call me a "hater," but I'm still not ready to commit to him. He caught quite a few lucky breaks last week including the huge gain to Zach Ertz on a deflected pass that 100% should have been intercepted. Those type of plays typically even out in the long run and I can see this week being a tough game for the second year signal caller. The Giants' defense has not been the dominant group that many were expecting them to be this season, but it really has not been their fault. They have been on the field so much thanks to the horrible offensive performance thus far, that they simply cannot create any big plays or stops. I expect the offense to be somewhat better this week for the Giants, but they will be dependent on Odell Beckham Jr. Assuming he is healthier than he was for the last game, Manning will likely be forcing him the ball quite often and hoping he can make some plays with his legs. Buying into Beckham may be a sneaky good option this week as everyone has to have given up on the Giants by now, but the top play for me is the Giants' defense. I expect that group to go into Philadelphia and still a win for the desperate Giants.
Mario's DFS Take: I was all over a Giants rebound on Monday Night Football, but the offense failed miserably, once again. In what is arguably a worse matchup, I am going right back to the well and looking for a bigger performance from both Eli Manning and Odell Beckham, Jr. – now one week closer to being fully healed. There was also a small bright spot in the form of Evan Engram in Week 2, as he caught the team's only touchdown of the year – that's right, it's now Week 3 and the Giants have one touchdown on only three scoring drives. As much as I bought into the longterm success of the Eagles, this year, hosting an embarrassed division rival will likely bring out the best in the Giants. And, even if the offense continues to falter, New York's defense will make it a point to try to salvage the season – it is one of the better plays on Sunday.
Oakland Raiders at Washington Redskins
Luke's DFS Take: When the Raiders come to town, game flow becomes that much easier to predict. This potent Raiders offense gets another matchup against a vulnerable defense, and the same cast of players we continue to harp on will make for strong options once again. Derek Carr, Marshawn Lynch, Amari Cooper, Michael Crabtree, and Jared Cook are all options this week. Michael Crabtree has dominated the success so far this year, but the rest of the playmakers in this offense are too talented to be held down for long. It is also only a matter of time before defenses key on Crabtree and force Carr to prove his other guys are just as dangerous. This week may be the perfect time to jump on someone other than Crabtree with most people likely buying into him as the top Raiders option. The Redskins offense has struggled to move the ball through the air this season, but will need to correct that quickly if they want to keep up with the Raiders. Kirk Cousins may have to find a way to do so this week without his top weapon, Jordan Reed. Reed may end up suiting up, but he is dealing with a rib/sternum injury which is they type of thing that is difficult to put aside while playing. With Reed largely out of my fantasy picture, I turn to two other options. Terrelle Pryor and Chris Thompson. Pryor has been underwhelming as a Redskin to this point, but showed last year he is skilled enough to have a 1,000 yard season with the Browns, so there is reason to believe he can figure it out with Kirk Cousins, eventually. This week may be the perfect time for Pryor to break out as his team will likely need his contributions. Thompson sees most of his value as a receiving back, and that is the reason to love him this week. In what figures to be a high-scoring matchup, Thompson will likely see extra snaps and targets. He displayed his big play ability last week as both a runner and receiver, and with a positive matchup and gameflow this week, there is no reason to think Thompson can't rattle off a few big plays again this week.
Mario's DFS Take: I had started taking for granted how porous the Redskins' rush defense was in 2016 and how it would translate to another bad year against the run, but Washington has now limited both opponents it played to fewer than 100 yards, each – and it was against an Eagles team with a lead and Todd Gurley. This knocks out Marshawn Lynch, despite Oakland already tallying five rushing touchdowns on the young season. Instead, the Raiders will rely on their typical aerial attack in what could easily develop into a high-scoring affair. Derek Carr and his trio of Amari Cooper, Michael Crabtree, and Jared Cook are all in play. Crabtree snagged three touchdowns, last week, while Cooper leads the team in targets, but has only 95 yards and one touchdown catch. Expect the numbers to balance out a little more in the coming weeks, with Cooper emerging. Oakland's offense, as always, puts its defense under constant pressure in the passing game – although, usually with a lead. Washington will take to the air – as it is prone to do – via quarterback Kirk Cousins. Unfortunately for Cousins, he doesn't have the reliable weapons as he had in the past with basically just Jordan Reed at his disposal. And, as is often the case, Reed is not 100 percent healthy – if playing a Primetime slate, he is worth the risk. Instead, running back Chris Thompson appears to be in line for a big day, as he is the pass-catching option out of the backfield, is third on the team in targets, and is part of an offense that ranks second in rushing-yards-per-attempt.
Read More Daily Fantasy Football Content On Sporfolio
Photo Credit: By Marianne O'Leary (Flickr: Eli Manning is back to pass in warm ups.) [CC BY 2.0], via Wikime