It should have ended in Week 2. It didn't. Let's be thankful. There is nothing more important in determining NFL picks against the point spread than perception, and overreactions are the typical driving force. Normally, they fizzle out after a second game.
Not this year. Not yet.
So much momentum was gained in 2016 by teams that didn't deserve it, and it has captured an entirely new crop of football fans and analysts who believed last year was the norm. We know better. 2016 was an exception in almost every single way, but those who are short-sighted bought into the lessons they learned over seventeen weeks of unsustainable football. This is evident by the wild predictions at the start of this season that basically mirrored exactly what last year produced.
"The Giants are a playoff team."
"The Cowboys are unstoppable."
"The Texans will win the AFC South, again."
What's most amazing about these ill-conceived beliefs is that some have not yet been abandoned. And, those that have are selling hard.
Smart investors don't buy stocks after a massive rise, especially if history doesn't sustain it. Yet, the unsustainable was all that anybody knew after a season that completely tore apart the history books. It was as if a new league formed in 2016 that disregarded its ancestors. Therefore, the believers of '16 knew nothing besides a 13-3 Cowboys team, an 11-5 Giants campaign, and an AFC South that only belonged to Houston.
Now that the pieces are starting to fall back into place, people are left scrambling to determine what's real and what isn't. Are the Giants closer to 0-2 or 11-5? Might the 2017 Cowboys lose more games by Halloween than they did all of last year? Do the Texans have any answers?
These violent swings are what we want. A team's future is relatively clear if we look at it objectively and push aside any strong pull – up or down. It's why I frequently cite my preseason AFC and NFC predictions. Months of research should not be undone in a few short weeks of play.
By defining the foundation for each team, it becomes easier to gauge how far they are beginning to stray. But, such foundations are shaky when built upon only last year's results. Basically, an 0-2 Giants team appears catastrophic for those who predicted a 12-4 campaign – there were many – but is on the path to a more reasonable 7-9 expectation.
The 'correction' will continue throughout 2017, and we are already seeing it in the early stages of the season. Normally, we don't get overreactions that last into Week 3, but there are still too many histories that rewrote themselves after the exception that was the 2016. The rules will take over, once again.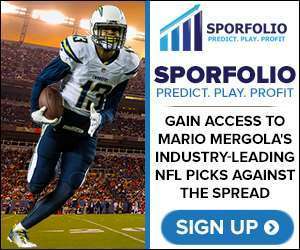 Week 3 NFL Picks Against The Point Spread
Below are predictions for each game against the spread. Spreads have been taken from various websites and are subject to change. The spread in parenthesis denotes the selected team. An asterisk denotes a confidence pick.
*Confidence Picks – 2017 Season: 7-6 (Last Week: 3-3)
(2016 Season: 53-67-3) (2015 Season: 69-45-2) (2014 Season: 61-46-2) (3-Year Total: 183-158-7)
All Picks Against Spread – 2017 Season: 18-13 (Last Week: 9-7)
(2016 Season: 123-136-8) (2015 Season: 143-117-7) (2014 Season: 149-114-4) (3-Year Total: 415-367-19)
New York Giants (+6)* at Philadelphia Eagles
If you have been reading my columns for the past few years, this pick should not be a surprise. In fact, it should be automatic. Win-or-lose, the setup is one I will almost always take.
A division rival on the road after back-to-back nationally televised losses – that were horrific, too – is not only getting points, but getting more points than when the game opened. The pick is in. The asterisk is attached.
This recent realization that the New York Giants' offense is severely problematic is long overdue. Dating back to the end of last season, everything about the Giants screamed, "Regression!" It was why I constantly picked against them – except when they played against Dallas, since New York had the Cowboys' number – and I was vehemently selling them this preseason. Unfortunately, records tend to skew perception more than anything else, and an eleven-win Giants team that won three of its last five games despite not reaching the 20-point barrier looked like a potential division champion to many. Now that New York has been exposed, the bandwagon is emptying at a dizzying pace.
Of course, this is when we love to buy.
I am all-in on the Eagles winning the division, this year. They are vastly improved at the right spots – namely, playmakers for second-year quarterback Carson Wentz – have a hungry defense that will always keep the team in games, and already have four different pass-catchers with at least 95 receiving yards on the season. The Eagles aren't going away. But, they also aren't cruising to a division title, just yet. After all, they ran into a brick wall in Kansas City, last week.
The Giants' offense was not the only unit on the team that was overrated in 2016, as the defense was a major benefactor of a relatively weak second-half schedule – that included the Bengals, Bears, Browns, and, if we go back a little further, Rams and Ravens. In 2017, however, the defense is actually outperforming its mediocre statistics out of pure necessity. Despite allowing the 20th most yards in the league, it ranks 17th in points allowed. And, the latter number is skewed, as it includes a punt returned for a touchdown against the defense. If we look deeper, we see that New York has only allowed three touchdowns to opposing offenses, despite the third-worst average starting field position in the league.
New York is a flawed football team that is speeding out of the playoff picture before the first month of the season ends. It will continue downward. The holes that existed at the end of last year – and resulted in a first-round playoff exit – are not only present, but growing. Still, the Giants will not go three consecutive games without showing signs of life on offense. They won't exactly outscore Philadelphia, but they also won't fall out of the fight. After all, the original spread was a telling three-and-a-half points.
The Eagles win by a field goal, but the Giants beat the now-inflated spread.
Oakland Raiders at Washington Redskins (+3)
It is hard not to like a team that takes care of business against weaker opponents. No 'upset.' No letdown. Just 'act accordingly and move on.' This is how Oakland operated in Week 2 against the Jets, and it moves them into a position where they are now road favorites in a Primetime game. Road favorites that, at the time of this writing, had their spread go down.
The Raiders are suddenly considered 'darlings' in the football world after a 12-4 campaign was cut short due to an injury to Derek Carr – it also helps that Carr, Amari Cooper, and Michael Crabtree are favorites in the fantasy football community. Conversely, the Redskins' Opening Day loss to the Eagles was so debilitating that they were getting points from a Rams team that has had ten consecutive losing seasons, but won to start the year. Such a spread was largely due to overreaction, but it works both ways, and Washington continues to be devalued.
Like the Raiders, the Redskins have played their part according to the team's schedule. The Eagles are improved and, as a result, they beat Washington. The Rams were not nearly as good as they looked on Opening Day, so the Redskins won. What, then, are the Raiders?
As I pointed out in my AFC predictions piece before the season began, Oakland, in 2016, was the only team in NFL history to have 12 wins and a point differential less than 44 – the Raiders finished the year 12-4 with a point differential of 31. The team is good. The Raiders will remain competitive, but another dominant season is simply not in their future. They have also won each of their first two games by double digits after playing eleven one-score games in the regular season, last year.
The spread inched closer to even after its open because a 'trap' is in the works and, as usual, it is aimed at a team universally accepted as one of the best playing against another squad most football fans have already abandoned. Washington sets the record straight, winning by a field goal and beating the spread.
Click here to sign up for Sporfolio to see the rest of Mario Mergola's NFL picks against the point spread. Mergola finished with the highest total of correct NFL picks against the spread for 2015 and 2016 – tracked by NFLPickwatch – and finished 2015 with an accuracy of 60.53% for his confidence picks.
Read More: 
Week 3 Fantasy Football Podcast
Featured Image Credit: By Marianne O'Leary (Flickr: Eli Manning is back to pass in warm ups.) [CC BY 2.0], via Wikimedia Commons