As it does every year, Week 1 features a heavy list of teams about to shift perceptions of the football-watching community. This plays perfectly into the hands of daily fantasy football players, since salaries will need to catch up with the players' actual outputs. Now is the perfect time to buy-in – before the pop.
Sporfolio's NFL Daily Fantasy Sports game-by-game analysis columns are driven by expected game flow. Based on a combination of our Week 15 NFL picks against the spread and our expectations for a given game, we project the actions necessary to make these picks come to fruition. We aim to pinpoint players integral to our predicted game flow for each game of the week.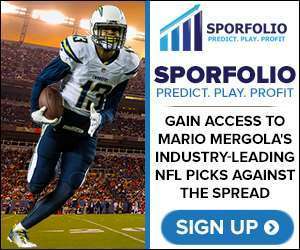 Luke May is Sporfolio's NFL DFS expert, and Mario Mergola operates Sporfolio as the expert for NFL Picks Against the Spread.
Arizona Cardinals at Detroit Lions
Luke's DFS Take: Welcome back to David Johnson season. The Cardinals' core offense continues to age and be surrounded by question marks in the passing game with neither John Brown nor Jaron Brown as trustworthy options. While we love to remember the recent times when Carson Palmer slung the ball wherever he wanted two years ago, last season was not quite the same story as the Cardinals' offense ran mainly through Johnson. It is not out of the question that he has some struggles again this year as he fights off father time. Larry Fitzgerald should see plenty of targets which makes him interesting, but I will likely wait to see how Palmer looks this year before buying in. Detroit is in the exact opposite position; their offense runs completely through quarterback Mathew Stafford. Detroit's backfield is much too difficult to trust right now, and very easy to avoid. Stafford has back mostly the same unit of pass catchers, but in what is not a great matchup, I will be looking elsewhere this week. If you love the Lions this week, then Stafford is undoubtedly the guy to own, but it makes sense to wait for better matchups in potential shootouts to unleash Stafford.
Mario's DFS Take: I'm excited. I'm looking for a bounceback year from Arizona coupled with a down season in Detroit, and the two meet on Sunday. Here's my chance to jump right in. Obviously, David Johnson gets the first look. This might be the year where he wears down from all the usage, but it won't happen on Opening Day. The same is true for future Hall-of-Fame wide receiver Larry Fitzgerald. And Arizona won't rise through the NFC West standings without stellar play from Carson Palmer, so let's through him in there, too. Thankfully, until the rest of the fantasy football community buys back into Arizona, we can get some nice discounts, so I'll be loading up on Cardinals for the time being.
Atlanta Falcons at Chicago Bears
Luke's DFS Take: This game features one of the most lopsided matchups of Week 1: the NFC champions against one of the bottom teams in the league. There should be no doubt as to how this games plays out as Atlanta should come out and score at will in their season opener. They have all their usual weapons, starting with Matt Ryan and Julio Jones, but in a game that has blowout potential I will turn to the ground game. The duo of Devonta Freeman and Tevin Coleman tormented defenses all last season, and the tandem should see plenty of work and opportunity this week. While the Bears have some talent up front, it is hard to have much faith in them right now. Jordan Howard should have another big season, but if the Bears fall behind quickly, his touches may be limited. Kevin White remains a high potential receiver who should see a lot of targets, but with Mike Glennon the likely starter for Weeks 1, it probably is not worth the gamble on any Bears pass catcher despite the positive game flow outlook.
Read More:
Week 1 NFL Picks Against the Point Spread
Week 1 Fanasy Football Positional Rankings
Mario's DFS Take: I'm looking at the game between Atlanta and Chicago was one of the scarier games on the schedule, not because the Falcons will lose, but because the Bears will, quite simply, give them a scare. Unfortunately, I can't pinpoint how it happens, as Matt Ryan could easily show up and end the game by halftime. For that reason – and the reality that, if Chicago plays well, Atlanta will need to throw – Matt Ryan is one of the better plays of the week. What gets lost in last year's trip to the Super Bowl is that Atlanta only faced the fifth-fewest rushing attempts in the league – obviously, thanks to large leads – but, in those attempts, were well below average – 26th in yards-allowed-per-attempt. For Chicago to have any chance, it has to be on the legs of running back Jordan Howard, who could be the surprise of Week 1.