Deadline Day in the MLB which will make lineups interesting.  Make sure the player you take won't be on the move today.  Sonny Gray is starting against the Giants, although a great play today it might not be the smartest as he could be on the move and scratched from the start.  It's plays like that, that you want to make sure that they are staying and won't be on the move.
Last night we saw Beltre join the 3000 hit club.  Huge congrats to Beltre that is a difficult club to join and no player is more deserving then Beltre.  He is one of the most underrated players in league history.  A great player and a great personality.
We have a small slate of games today, let's break them down.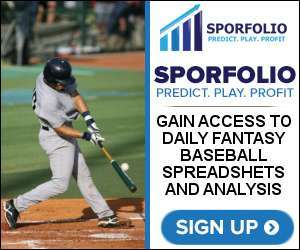 Low-Scoring Plays
Cleveland Indians @ Boston Red Sox- The Red Sox are not able to score, we have seen that this year.  When they are hot it's for about 3 games, when they are cold they are very cold.  They scored 3 last night and Pomeranz kept the Royals to only 1 run but the bullpen blew it.  The Red Sox shouldn't be able to do anything today as they are facing Mike Clevinger.  Clevinger hasn't faced many of the Red Sox, only Moreland and Nunez have appearances against him.  Fister gets the call for the Red Sox who isn't great, gives up the long ball.  Look for Indians to have a big day and score a lot here at Fenway.
Targets: Clevinger, Encarnacion, Ramirez
Seattle Mariners @ Texas Rangers- The Rangers are a struggling ball club this year which sets up well for Felix Hernandez.  King Felix has dominated the Rangers through out his career as he has held them to a collective average of .232. In 324 at bats the Rangers only hit 7 home runs so Felix should be the best pitching play on the day.  Cole Hammels is on the other side who should also have a good day.  However I think the power of Cano, Cruz and Gammel will be too much and will help the Mariners get the win in a low scoring game.
Targets: Hernandez, Cano, Gammel
High-Scoring Plays
Washington Nationals @ Miami Marlins- We have two clubs here that could mash the ball the to the moon.  The Nationals can score at will and the Marlins break out on hot streaks that are hard to stop.  This game should be the high-scoring game of the day.  Neither team is throwing their ace so hits and runs will be in play.  I like the Nationals as their line up is better and Geo Gonzalez is a better pitcher but taking some Marlins won't be the worst play.  Bryce Harper should be a lock today, and Murphy will also be a great play.
Targets: Harper, Murphy, Zimmerman
Kansas City Royals @ Baltimore Orioles- The Royals are red hot, as they are 9-1 in their last 10 games.  They are chasing down the Indians who have a series with Boston.  If Boston can get their bats hot the Royals could have control of first place after these series.  I love the Royals here against the Orioles they will be able to put up a ton of runs as the Orioles aren't that great of a ball club.
Targets: Moustakas, Cain
Extra Innings
The Yankees-Tigers game is an interesting match up.  It's Severino vs Fulmer who are both having great years.  This game could be low scoring but the Yankees' lineup is great we know that.  That is why I'm afraid to go near Fulmer today.  Severino should be a solid play but he wasn't great in his last start.  Not everyone is going to have a great game every single night so you can't hold Severino to that type of play however it's a game that can go either way.  If you are feeling one side or the other I don't think it will be the worst play but me personally will be staying away from the game.
Sign up for Sporfolio to gain access to NFL picks and DFS, NHL DFS, and MLB DFS spreadsheets (picks from the Pitcher Breakdown Spreadsheet – all over/unders – are now at 59.3% accuracy since June 30).
Featured Image Credit: By Arturo Pardavila III [CC BY 2.0], via Wikimedia Commons