What a performance by Clayton Kershaw last night.  He went 9 innings striking out 10 and only allowed 1 run.  Unfortunately Kershaw was unable to pick up the win because Lynn also pitched lights out.  The game went 13 innings and there was 7 total hits in the game.  That had to be one of the most boring games of all time.
Ervin Santana also had himself a day as he through a complete game shutout.  He held the Orioles to 2 hits which is extremely hard to do.  He only struck out 6, however, he lowered his ERA to a league leading 1.80.  Bundy didn't have a bad game as he went 7 allowing 2 and struck out 7.  Any other game, Bundy will probably pick up this win however Santana was locked in and pitched a great game.
We have 15 games today so you will have a ton of ways to make your lineup.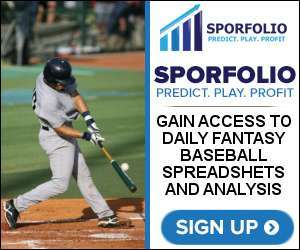 Low-Scoring Plays
Texas Rangers @ Boston Red Sox – Sale is back on the mound for Boston looking for his 9th straight game where he can strike out double digits. Porcello let up 11 hits last night and 5 runs, however he struck out 4 in 6 innings.  We know that Sale is a lot stronger pitcher than Porcello  Sale is expensive, but like Kershaw last night he is a must have in your lineup.  Texas has injuries to their line up so they aren't dynamic as they usually are.  Breaking out for 11 hits last night I like them to be shut down tonight.
Targets: Sale, Bogaerts, Ramirez
Colorado Rockies @ Philadelphia Phillies – With Sale being so expensive you will need to save money on another pitcher.  Look to Jeremy Hellickson pitching at home.  He is 5-1 on the year with a 3.44 ERA.  The Rockies are a solid team so it won't be easy for Hellickson to win this game.  However he has a WHIP of 1.03 which is well below the league average.  Philadelphia doesn't have a strong lineup so I don't think they will score many runs in this game.  Chatwood – pitching for Colorado – has an ERA above 5 so the Phillies should win this one is a close game.  Side with Hellickson if you want Sale and some flashy names for your position players as well.
Targets: Hellickson
Kansas City Royals @ New York Yankees – Luis Severino takes the bump for the Yankees who is having a solid season. He averages 18.9 points per game and has a WHIP of 1.13.  The Royals aren't a strong team so Severino could dominate this game at home.  Jason Hammel is pitching for the Royals who has an ERA above 6.  New York should win this game easily so look to stack some Yankee batters as well.  Judge we know can hit the long ball and I would take him today.  I like playing Sanchez today, however, he is expensive.  If you take a pitcher like Sale it will be almost impossible to take Sanchez.
Targets: Severino, Judge, Sanchez
High-Scoring Plays
Minnesota Twins @ Baltimore Orioles – Baltimore was shut down last night, as they only had two hits on the day.  The Orioles are an edgy team in my eyes, kind of have the bad boy mentality.  Their stars don't get the recognition that Harper, Trout, Betts, or Judge do and they know that.  Look for Jones, Machado, Davis, and Trumbo to come out swinging today.  If you can stack at least 3 of these guys, do it.  Santana pitched a complete game last night so the Twins bullpen is rested so if the Orioles want to win this game big they are going to have to do so early.  I'm taking them big in this one after they were shut down at home last night.
Targets: Machado, Trumbo, Schoop
San Diego Padres @ New York Mets – This game has to be the worst pitching matchup of the day.  Anytime Gsellman is on the mound I'm taking the other team.  However the Padres aren't exactly throwing an ace either.  The Mets have been swinging the bats well this past week or so, which has Met fans believing a little.  Don't worry, the Mets will rip all of your hearts out once again.  I'm not sure how Terry Collins still has a job but he does.  I like the Mets to take this game, Bruce and Conforto and too hot not to like them in this one.
Targets: Bruce, Conforto, Reyes
Undervalued Plays
Delgado – SP – ARI – A starting pitcher for $4000 is a steal.  Arizona is a strong ball club so there is a shot he can pick up this win.  He is pitching against the White Sox who have been hitting the ball well lately, but overall Chicago isn't a good ball club.  They should finish the season around .500 or a little below.  If their bats go cold today Delgado could be a steal.  You can take Sale, who will put up numbers for 2 pitchers, and Delgado will barley be owned.   If he puts up 10 points that's a win.
Pujols – 1B – LAA – Pujols is only batting .244 on the year, which is very uncharacteristic for him.  He is old so we shouldn't expect him to be the same player he was.  The reason I like him in this situation is because of Trout batting behind him.  Pujols will have to see pitches, there is no pitching around him.  If Pujols does get a good pitch he is more than capable of crushing it out of the park.  If he gets on base he has Trout right behind him to drive him in.
Ellsbury – OF – NYY – Ellsbury is having a solid season batting .281 with 4 home runs.  He has potential to take a base when ever he is on.  He will probably lead off so he will have Sanchez and Judge there to drive him in.  Ellsbury will be a great play today.
Sign up for Sporfolio to gain access to NFL picks and DFS, NHL DFS, and MLB DFS spreadsheets (the Pitcher Breakdown Spreadsheet is 7-2-1 over the last three days in over/under plays).
Featured Image Credit: Keith Allison/Flickr C.C. 2.0