Sunday features our last multi-game slate of the 2016 NFL season and, with it, our final game-by-game analysis for months. Thankfully, there appears to be no shortage of offensive firepower on teams who appear to have taken their muscle building supplements between the four teams in play. Of course, this requires taking a risk when selecting a defensive unit to use, but it is an unavoidable consequence of the squads presented to us.
With so many playmakers taking the field on such a small slate, the range-of-outcomes is proportionally large. However, the basement projections for not only the players, but the teams' expected outputs, are so high that we can actually pinpoint a fitting game flow for each.
Sporfolio's NFL Daily Fantasy Sports game-by-game analysis columns are driven by expected game flow. Based on a combination of our Conference Championship NFL picks against the spread and our expectations for a given game, we project the actions necessary to make these picks come to fruition. We aim to pinpoint players integral to our predicted game flow for each game of the week.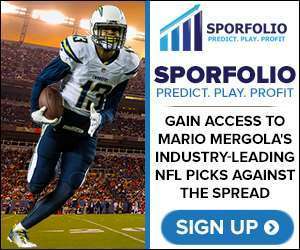 Luke May is Sporfolio's NFL DFS expert, and Mario Mergola operates Sporfolio as the expert for NFL Picks Against the Spread.
Pittsburgh Steelers at New England Patriots
Luke's DFS Take: While it is easy to fall in love with either offense on a random week, given their weapons, we may not be looking at a high-scoring game. Then again, in a player-by-player comparison, it is nearly impossible to not own Tom Brady. He is probably under-priced – for the first time in recent memory – and will likely be under-owned due to the allure of Matt Ryan and Aaron Rodgers. The Patriots thrive on making 'statements' and, after being criticized for their performance, last week, this sets up for another explosion by New England's offense. My only hesitation for buying into the Patriots' offense is Le'Veon Bell. Indeed, the Steelers' running back does not play defense, but he may serve as the best 'defensive weapon' for Pittsburgh by carrying the ball an abnormally high amount of times in an attempt to keep Brady off the field. This would be nothing new for the Steelers, as their last two playoff games featured rushing totals of 29 and 30 for Bell, respectively, while quarterback Ben Roethlisberger has thrown a combined 49 passes over the same span. The Steelers are committed to giving Bell the ball as often as possible, and it slides the running back into 'must-play territory' for me. I also love the 'storyline play' of Antonio Brown after the drama surrounding his Facebook live video, but I am generally too low on the AFC Championship Game for offensive purposes to lead me to use multiple players from Pittsburgh. Instead, I would lean toward Tom Brady and Julian Edelman – who has seen double-digit targets in all-but-one game since Week 11. LaGarrette Blount may receive a heavier workload, this week, which would make him an intriguing play after he burned fantasy owners in the Divisional Round. Unfortunately, we can never be too certain as to how the Patriots will deploy their three-headed running back group.
Mario's DFS Take: As soon as the narrative turned against New England's offense – namely, the widespread, inaccurate discussion about how Houston's defense exploited some weaknesses – the entire Patriots' offense moved onto my radar. Tom Brady is now my top quarterback play for the weekend. He is surrounded by talented weapons – Martellus Bennett and Julian Edelman top the list and can be used with Brady – and will welcome the change from Houston's top-ranked defense to Pittsburgh's – ranked 12th in the league in yards allowed. After LeGarrette Blount touched the ball only eight times in the Divisional Round, the running back – who led the National Football League in rushing touchdowns – is now a sneaky play for Sunday. New England frequently mixes up the gameplan and, after Blount was noticeably absent from last week's plan-of-attack, he should slide back to the top of the depth chart, this week. The absolutely perfect 'game flow' play is Pittsburgh's Antonio Brown. After a week of unnecessary turmoil caused by Brown sharing a live feed from inside his team's locker room, the star wide receiver will undoubtedly be focused on Sunday afternoon. And, if he team is, indeed, trailing, a forced aerial attack will increase his targets even more. Finally, of the four teams in play on Sunday, New England's defense is the top option, but only by default.
Read More Daily Fantasy Football Content On Sporfolio
Featured Image Credit: By Keith Allison from Baltimore, USA (Tom Brady) [CC BY-SA 2.0], via Wikimedia Commons