The final four-game slate of NFL action is upon us and, unlike last week, we actually have a somewhat competitive set of matchups. After four games decided by no fewer than 13 points – all by the home teams, too – we can assume that most of the weaker teams were weeded out in the Wild Card round.
As an added bonus, each game appears to have a comparatively clear game flow expectation, as teams' strengths have helped carry them into the Divisional Round. These strengths will be featured as teams try to continue their season.
Sporfolio's NFL Daily Fantasy Sports game-by-game analysis columns are driven by expected game flow. Based on a combination of our Divisional Round NFL picks against the spread and our expectations for a given game, we project the actions necessary to make these picks come to fruition. We aim to pinpoint players integral to our predicted game flow for each game of the week.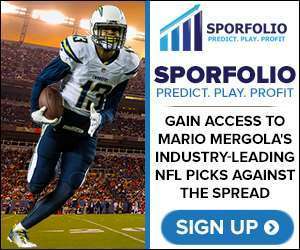 Luke May is Sporfolio's NFL DFS expert, and Mario Mergola operates Sporfolio as the expert for NFL Picks Against the Spread.
Pittsburgh Steelers at Kansas City Chiefs
Luke's DFS Take: With the Steelers now rolling into the second round of the playoffs, I am not going to abandon ship on Sunday. The matchup isn't great against Kansas City, but Pittsburgh is simply too hot to stop, right now. Ben Roethlisberger, Le'Veon Bell, and Antonio Brown are all back in-play, with Bell being my top choice. He is usually one of the best plays on any weekend, but he faces a Chiefs defense that is actually bad against the run – 26th in yards allowed. Kansas City has shown the ability to put up points, as well, but the same problem exists with the Chiefs, as always. That is, the lack of a consistent offensive gameplan. This issue does appear to be improving, however, as Travis Kelce had twelve targets in Week 16, while Tyreek Hill had 95 rushing yards – and a touchdown – in Week 16 to go with five receptions and three carries in Week 17. Kansas City is also expected to get back Spencer Ware, and the running back will slide in as the team's top option in the backfield.
Mario's DFS Take: It is possible that the Pittsburgh Steelers waited an entire calendar year for the performance they had in Wild Card Weekend. Last postseason, the always-dangerous trio of Ben Roethlisberger, Le'Veon Bell, and Antonio Brown were, in one capacity or another, injured. Finally healthy and ready to take on the AFC, the three put forth one of the most impressive, balanced efforts possible. Unfortunately, Sunday appears to bring a more difficult obstacle, as the shift from Miami's 29th-ranked defense in yards allowed – at home – to playing in Kansas City against a Chiefs team allowing the seventh-fewest points should lower the ceiling of the three aforementioned stars. We also cannot overlook the injury to Roethlisberger's foot – he will still play and it is hard to imagine he would be completely ineffective – in poor weather conditions. If entering a Sunday-only contest, the Chiefs' defense is a high risk-reward, 'contrarian' option. Otherwise, only Bell should be targeted against a Kansas City run defense that has allowed at least 99 rushing yards to its opponent 13 times. For the Chiefs, offensively, the list of targets begins and ends with Tyreek Hill and Travis Kelce. The two are the focal points of Kansas City's attack, and Hill is utilized in nearly every conceivable way.