The 2016 NFL postseason begins with eight teams over the course of two days for the first time in a two-week span. The matchups have been set, players rested, and schedule shuffled accordingly.
Despite this weekend featuring our smallest slate of games, this season, the set of teams that have survived 16 battles, to date, often have enough talent to fill a fantasy football roster. Thankfully, we even have matchups that present relatively straightforward game flow projections.
Sporfolio's NFL Daily Fantasy Sports game-by-game analysis columns are driven by expected game flow. Based on a combination of our Wild Card Round NFL picks against the spread and our expectations for a given game, we project the actions necessary to make these picks come to fruition. We aim to pinpoint players integral to our predicted game flow for each game of the week.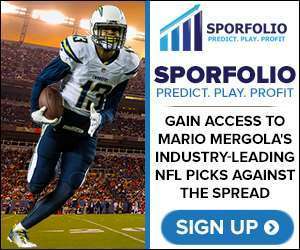 Luke May is Sporfolio's NFL DFS expert, and Mario Mergola operates Sporfolio as the expert for NFL Picks Against the Spread.
Miami Dolphins at Pittsburgh Steelers
Luke's DFS Take: Out of the four games on Wild Card Weekend, the matchup between the Miami Dolphins and Pittsburgh Steelers features the most skill position players in decent matchups. Pittsburgh has as much talent as any squad in the league, rested its top players, and takes aim at a Miami defense that allowed the fourth-most yards in the league. Ben Roethlisberger, Antonio Brown, and Le'Veon Bell may all be my top targets at their respective positions and, while it may be tough to own all three on a team, it might be worth forcing it. While Matt Moore starting for the Dolphins may appear to be a letdown, Moore has actually been decent in his three starts – throwing for eight touchdowns. While Moore is not a top option, Jay Ajayi and Jarvis Landry should gain from the potential game flow. Both Kenny Stills and DeVante Parker have had decent success with Moore under center, so both could serve as boom-or-bust candidates in what figures to be a high-scoring game.
Mario's DFS Take: The Steelers deserve special recognition by not only resting their star players in Week 17, but announcing their plans ahead of time. There were no tricks or sneaky maneuvers, and we were able to craft our lineups appropriately. We also know that the always-dangerous trio of Ben Roethlisberger, Le'Veon Bell, and Antonio Brown will be as rested as possible entering Sunday's matchup with the Dolphins. Both Roethlisberger and Brown were injured at various points during last season's playoff run, and the duo can be expected to make the most of their presence on the field together. However, the true must-start play of the weekend is Le'Veon Bell, as he will go against a run defense that allowed the second-most yards-per-rush in the league. Bell is generally one of the players we would look to target on any given week, but Sunday presents an ideal matchup and a potentially great game flow – assuming the Steelers have a late lead. Miami's Jay Ajayi is also an excellent option, as he tore apart Pittsburgh for 204 rushing yards and two touchdowns when the teams met in Week 6. Normally, I would stay away from a player that already had an outstanding performance against a team he will face again, but Ajayi has been an exception to most rules. He has now had three 200-yard outings on the season, two of which were against the same team.
Read More Daily Fantasy Football Content On Sporfolio
Featured Image Credit via Widimedia Commons: (Own work) [CC BY-SA 3.0], via Wikimedia Commons