After a combined four teams play on Thursday and Saturday night, we are set up for another 14-game breakdown between Sunday and Monday. Thankfully, there is a nice split between matchups that should be tightly contested and those that are poised for a blowout. Of course, fantasy options present themselves in nearly every contest, but the large number of games through which we must sort makes the decisions a bit easier.
While we tend to leave our player breakdowns for the DFS picks column that will be released in the coming days, we could not avoid explaining our reasoning for-or-against a few of the biggest names in fantasy football. Specifically, since we will be avoiding many of them on Sunday, this column presented the only opportunity to explain why we felt as we did. Once again, it was a reasonable enough task to find another player worth considering, as well.
Sporfolio's NFL Daily Fantasy Sports game-by-game analysis columns are driven by expected game flow. Based on a combination of our Week 15 NFL picks against the spread and our expectations for a given game, we project the actions necessary to make these picks come to fruition. We aim to pinpoint players integral to our predicted game flow for each game of the week.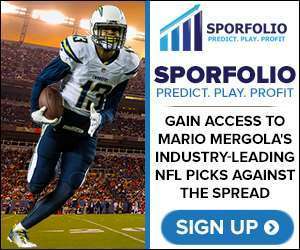 Luke May is Sporfolio's NFL DFS expert, and Mario Mergola operates Sporfolio as the expert for NFL Picks Against the Spread.
Green Bay Packers at Chicago Bears
Luke's DFS Take: Despite what the initial reaction would suggest, a divisional showdown between the Packers and Bears may provide an interesting game. These two rivals are on totally opposite ends of the spectrum at this point of the season – Green Bay is fighting, every game, for its playoff hopes, while the Bears have reached irrelevancy outside of draft position. With that being said, the Bears have been playing opponents tough over the past few weeks, including nearly beating the division-leading Lions in Week 14. I am not going to shy away from Green Bay's top weapons of Aaron Rodgers, Jordy Nelson, Devante Adams, or Randall Cobb – mainly because Rodgers is playing at an outrageously high level – but we should not be looking at a blowout on Sunday. If Rodgers and the Packers do score easily, don't be too surprised to see Matt Barkley – I don't particularly like him, but he has been playing admirably – keep the score close. The Packers' secondary dominated Seattle, last week, but that appears to be the anomaly more than the norm. The return of Alshon Jeffery could pay out in a big way for both him and Barkley, as Jeffery will be returning to a depleted offense in which he is the main target.
Mario's DFS Take: I absolutely love an overlooked division underdog, and the Chicago Bears fit the mold to perfection. Since Matt Barkley took over as the team's starting quarterback, the Bears were arguably a few plays away from a 3-0 run. Barkley's first start included a dropped touchdown pass with less than a minute remaining that would have almost certainly won the game, while his last outing included his team leading with minutes left in regulation before Matthew Stafford pulled out another heroic comeback victory. Barkley is one of the best 'sleeper' plays of the day for the combination of game flow expectations – if Green Bay leads, the Bears will need to be passing – and actual, underrated talent. Most importantly, Barkley has been performing well without his best weapon, who will be returning just in time for a rivalry game at home. Wide receiver Alshon Jeffery is back from his four-game suspension and has only three games left with the Bears before presumably hitting the free agent market. Buy into him now before he explodes. As a related side note, the Packers have allowed the fourth-most passing touchdowns and fourth-most net-yards-per-pass-attempt in the league.
Tennessee Titans at Kansas City Chiefs
Luke's DFS Take: Quite simply, the fantasy prospects in a game between the Titans and Chiefs are few-and-far-between. In essence, it is a battle of two run-first offenses that typically try to dominate time of possession and let their defense do the heavy lifting to keep a game close. While both teams do actually feature some appealing weapons, none appear poised to deliver high fantasy value. If targeting skill position players, I would lean on either team's tight end – Delanie Walker and Travis Kelce. Both players are top targets for their respective quarterbacks and are huge threats near the goal line. With the game projecting to remain lower scoring, both defenses can be targeted.
Mario's DFS Take: We saw how difficult it was for an outstanding Raiders offense to move the ball in Kansas City in cold weather, and Sunday's forecast is currently calling for temperatures in the single-digits. Bitter cold conditions aside, both defenses are already primed to be the stars of a game between Tennessee and Kansas City, as the Titans and Chiefs are allowing an average of 20 and 21.8 points-per-game over their last four contests, respectively. Offensively, both Spencer Ware and DeMarco Murray are worth serious consideration, as the game will almost certainly be won on the ground. Tennessee's overall run defense is excellent – third-fewest yards and touchdowns allowed – but is not necessarily efficient, while Kansas City is actually bad against opposing running backs and no longer has linebacker Derrick Johnson in the lineup.