As we approach the final quarter of the 2016 NFL season, we can better assess the true direction of most teams. More importantly, we now have a solid grasp on the style of offense that each squad would like to utilize and can make reasonable projections for whether-or-not it fits into a specific matchup.
Week 13 is a fantastic mix of low-scoring, defensive battles and high-flying shootouts. Each game appears to fit neatly into one of the two bundles, with the outliers also leaning in the direction of potentially one-sided contests. With that, we can use the established style-of-play more effectively than we have in previous weeks.
Sporfolio's NFL Daily Fantasy Sports game-by-game analysis columns are driven by expected game flow. Based on a combination of our Week 13 NFL picks against the spread and our expectations for a given game, we project the actions necessary to make these picks come to fruition. We aim to pinpoint players integral to our predicted game flow for each game of the week.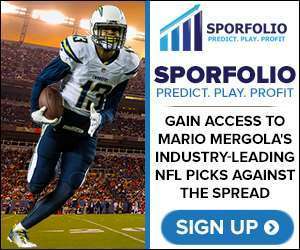 Luke May is Sporfolio's NFL DFS expert, and Mario Mergola operates Sporfolio as the expert for NFL Picks Against the Spread.
Detroit Lions at New Orleans Saints
Luke's DFS Take: Hands down, the game between the Lions and Saints is my favorite of the week. This Saints offense continues to be unstoppable and has a great matchup against a relatively poor Detroit defense – over the course of the season. There are, of course, many options from New Orleans – Drew Brees, Michael Thomas, Brandin Cooks, Willie Snead, Mark Ingram, and Tim Hightower – and, while all of these players have been productive, my favorite for Sunday is Cooks. He was the number one receiver on the team before apparently losing that role to Michael Thomas. Despite this, Cooks has remained involved and productive. Until last week. The Saints put up 49 points in Week 12 and Cooks had zero targets. I know. This seems impossible. But it's true. This led to rumblings about Cooks usage and there is basically no way for him to not be more involved on Sunday. The Lions have an equally good matchup and may be looking to explode offensively after a tough game on Thanksgiving against the Vikings. They will be coming in with ten days rest and should be able to score at will. Matthew Stafford, Theo Riddick, Golden Tate, and Eric Ebron – who also had zero catches last week – are all seriously in play for me.
Mario's DFS Take: Anytime the Saints take the field, I am excited for the fantasy football implications from both sides of the game. Sunday is no exception, as both New Orleans and Detroit are filled with fantasy potential. Like the Packers, the Saints are still clawing their way back to a .500 record, and playing in their home dome appears to be the perfect antidote for an otherwise disappointing season. The stellar duo of Drew Brees and Brandin Cooks has to be considered, but Mark Ingram has been playing like a man possessed after getting benched a few weeks ago. We also can't ignore Willie Snead's importance to the offense, as he is averaging just fewer than 7.5 targets-per-game over the past seven games and was called upon to throw a pass – that resulted in a touchdown – in Week 12. Detroit's Matthew Stafford is arguably a must-play thanks to his matchup and role in what can easily develop into a high-scoring affair. Choosing between Golden Tate and Marvin Jones is still too difficult to do comfortably, but Eric Ebron and Theo Riddick are certainly in play.
Miami Dolphins at Baltimore Ravens
Luke's DFS Take: The only player on either the Dolphins or Ravens that has excited me at all has been Jay Ajayi. Ajayi has been one of the best backs in the league, recently, but has a matchup against a Ravens defense that has consistently shut down opposing rushing attacks. Because I am down on all skill position players from Baltimore or Miami on Sunday, I am targeting both defenses. In fact, the Dolphins' defense is one of my favorite options of the week. I am not a big believer in Baltimore's offense and their recent stretch of just three games in which it has scored at least 20 points since Week 5 – one of these games came against the horrific Browns – support my claims. The Dolphins are rolling and, for them to find any way to knock off Baltimore, it would have to come from Miami's defense.
Mario's DFS Take: Remember that team that turned the ball over eleven times in the first five weeks of the season? It's the Miami Dolphins, who just-so-happen to hit the road and face the ridiculous Ravens' defense and their nineteen takeaways – sixth-best in the league. In addition, the matchup with Baltimore finally moves Jay Ajayi off our radar for the first time in weeks, but few offensive players from the Ravens and Dolphins can slide into the lineup in his place.
Read More Daily Fantasy Football Content On Sporfolio
Featured Image Credit: By Keith Allison (Flickr) [CC BY-SA 2.0], via Wikimedia Commons