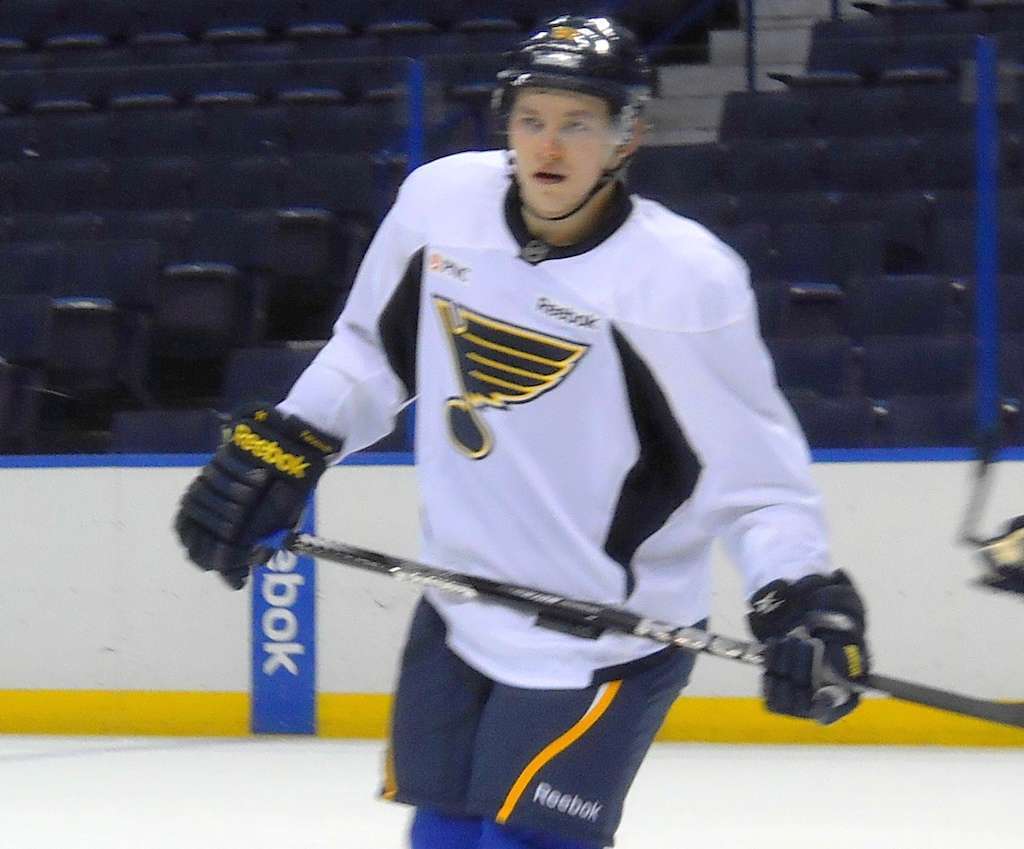 Latest posts by Tom Fitzgerald
(see all)
Welcome to a new week of the daily fantasy hockey morning coffee. We only have a two-game slate to work with tonight, so ownership will once again be compressed.
As part of our Cyber Monday sale on Sporfolio, today's NHL DFS column will be "unlocked" and free to all readers in its entirety. In addition, we are offering 15% off all new subscriptions by using code CYBER15 in the promo code field after selecting your plan at our pricing page.
The last place Islanders host a Calgary team that is on the second night of a back-to-back and the Dallas Stars travel to St. Louis in a November rematch where St. Louis will look to avenge their 6-2 November 3rd loss.
The top plays are clear-cut and will be heavily owned tonight: Tyler Seguin, Jamie Benn, Vladimir Tarasenko … use them in your lineups as you see fit.
Buoyed by Chad Johnson, the Calgary Flames are a team we can stop completely picking on. But tonight, on the second night of a back-to-back, we'll either get Chad Johnson playing on consecutive nights, or we'll get Brian Elliott. Either situation brings a favorable matchup for the Islanders.
Still, the Islanders only have one win over their last seven games, and that win took a shootout — and they have only scored nine goals over their past five games. So when I use the word "favorable" I use it as weakly as possibly can be conveyed.
Oh, the joys of two-game slates.
Calgary's penalty kill is still one we can attack (they have allowed a league-worst 22 power play goals) – so I'll look to NY's power play (yes, a NY power play clicking at only 13.8 percent) with the hopes that the back-to-back Calgary is on will lead to tired legs and some power play chances for NY (Calgary was shorthanded six times last night).
Anders Lee $4.3K (4G, 1A, 1 PPP, 34 SOG)
Brock Nelson $5.2K (5G, 8A, 3 PPP, 40 SOG)
Josh Bailey $4.2K (3G, 8A, 3 PPP, 39 SOG)
John Tavares $7.6K (5G, 10A,5 PPP, 62 SOG)
(D) Nick Leddy $4.8K (4G, 6A, 3 PPP, 38 SOG)
make up NY's first power play unit.
Alan Quine and Anthony Beauvillier skate on NY's second power play unit and make a deep deep GPP pair. It's a very risky move as even their shot volume gives them an incredibly low floor (11 SOG for Quine, 15 SOG for Beauvillier). Again, the joys of two-game slates. If we want to take this a step further we can add Boychuck to give us a NY PP2 stack. I would never suggest pairing two players with a total of 26 SOG in any other slate but a two-gamer, but this is a place where there is some opportunity against a Calgary team that has shown they can be beaten on the power play … and we should grab some shares of what should be a lower-owned NY PP unit.
On the Calgary side we can look to:
Matthew Tkachuk $4.1K (6G, 4A, 1 PPP, 37 SOG)
Mikael Backlund $5K (3G, 7A, 1 PPP, 58 SOG)
Michael Frolik $4.9K (6G, 8A, 56 SOG)
as a first line stack. And we should also attack a New York penalty kill that has allowed a league seventh-worst 15 power play goals this season with a Calgary power play stack:
Matthew Tkachuk
Mikael Backlund
Troy Brouwer $4.7K (5G, 4A, 2 PPP, 37 SOG)
Dougie Hamilton $5.2K (2G, 10A, 2 PPP, 63 SOG)
Mark Giordano $6.2K (1G, 8A, 3 PPP, 56 SOG)
I wouldn't go too crazy with it, but Sam Bennett makes for a nice play and could go somewhat overlooked.
The real life game of the night is the Dallas Stars at the St. Louis Blues.
The usual suspects are in play for Dallas: Seguin/Benn. I keep waiting for the offensive breakout from Dallas, but it just hasn't happened. They have scored just seven goals over their past three games – and we have to go back to November 13th to find a game where they scored more than three goals (against the Canucks). Additionally, they have allowed 13 goals over their past four games – although they did get a 2-1 victory over Vancouver the last time they played.
Aside from the usual crop of players we'll see in many DFS lineups tonight (Seguin, Benn, Eaves, Spezza) I'm interested in Julius Honka and Esa Lindell to help separate my GPP lineups apart from the pack.
In three games Honka has 13 shots on goal, one assist and will see power play time with Benn and Seguin.
In 13 games, Lindell has one goal, two assists, one power play point and 17 shots on goal. Honka's shot volume and PP minutes make him the choice tonight, but on a two-game slate I do have interest in Lindell as a low-owned blue line option.
Dallas has allowed an NHL second-worst 3.27 goals per game this season and an NHL sixth-worst 16 power play goals — looking at the road splits, Dallas has allowed the most power play goals against with 12 and the most goals per game at 4.00. It will clearly be a popular play, but we'll go with the St. Louis PP1 unit:
Robby Fabbri $5.3K (4G, 5A, 5 PPP, 34 SOG)
Jori Lehtera $3.8K (3G, 2A, 1 PPP, 25 SOG)
David Perron $4.9K (6G, 9A, 5 PPP, 45 SOG)
Vladimir Tarasenko $8.4K (9G, 13A, 9 PPP 77 SOG)
(D) Kevin Shattenkirk $6.2K (4G, 10A, 9 PPP, 41 SOG)
The St. Louis first line of Perron/Schwartz/Statsny is also cleary in play … and the ownership levels will most likely reflect that.
Good luck tonight, you two-game slate players.
Sporfolio is offering 15% off all new subscriptions by using code CYBER15 in the promo code field after selecting your plan at our pricing page.
Featured Image Credit: By Scott Haselius (Flickr: vladimir tarasenko 5) [CC BY-SA 2.0], via Wikimedia Commons