Not every week of the NFL season brings an underlying storyline, but Sunday's is undeniable – revenge. Indeed, the teams are not necessarily enacting revenge on their opponents, but rather release their frustration on the unwitting franchise unlucky enough to be on the receiving end. Specifically, a few of the best fantasy options of the week play on teams that have recently suffered painful losses and are now in position to get back on track.
These losses were not entirely unforeseen, and one of our best weeks for our confidence picks against the spread also translated to one our best weeks for fantasy purposes. Therein lies the value of following the expected game flow, where the path that a team would generally take can carve out the route for specific players.
For Week 11, these routes present themselves as previous roadblocks. Ones that are about to get demolished as a team breaks through. With it, go the players.
Sporfolio's NFL Daily Fantasy Sports game-by-game analysis columns are driven by expected game flow. Based on a combination of our Week 11 NFL picks against the spread and our expectations for a given game, we project the actions necessary to make these picks come to fruition. We aim to pinpoint players integral to our predicted game flow for each game of the week.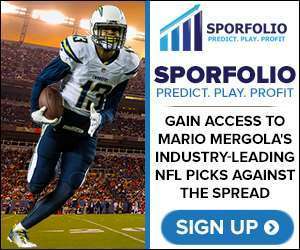 Luke May is Sporfolio's NFL DFS expert, and Mario Mergola operates Sporfolio as the expert for NFL Picks Against the Spread.
Philadelphia Eagles at Seattle Seahawks
Luke's DFS Take: One of the best matchups of the week features two of the top defenses in the league. I have argued for the entire season that the Eagles' offense is underwhelming and I will absolutely not change my mind as it heads to Seattle. The ground game carried Philadelphia to a win, last week, but it has been unreliable all season and will likely struggle against the Seahawks. As Seattle continues to build off last week's Primetime victory in New England, the Seahawks' defense remains the key to success. Seattle's offense has come alive, of late, but it runs into a defense that just shut down the highest-scoring offense in the league. Seattle will have a bit more success than Atlanta did, but there are better options elsewhere, leaving only the Seahakws' defense as my takeaway from Sunday's contest.
Mario's DFS Take: We were all over the Seahawks' offense finally popping over the past few weeks, but it is time for it to settle down for a little while. Mainly, with Philadelphia's defense coming to town, all of Seattle is downgraded. The same is true from the other side of the game, as Seattle's defense just handed New England its first loss since Tom Brady returned from his four-game suspension to start the year. We did see the Eagles utilize a relentless ground game against the Falcons but, with both Ryan Mathews and Darren Sproles in the mix and with the matchup completely against them, it is an extremely high risk-reward play to use either. Seattle appeared to be in a similar position, but just waived Christine Michael and appear ready to give C.J. Prosise an increased role. I'm not yet ready to jump aboard, but will likely target the rookie running back against weaker run defenses in the future.
Green Bay Packers at Washington Redskins
Luke's DFS Take: Despite their recent struggles and criticisms, the Packers are one of my favorite picks of the week. Desperation and pride are two strong motivators in the NFL, and Green Bay has both entering Sunday night. People are seriously questioning the ability of Aaron Rodgers and his squad, and a win is imperative to silence the voices from all directions. Personally, I am expected Green Bay to have a 'statement win' in front of a national audience. Washington's defense has been beatable – especially on the ground – and James Starks returned from injury last week to perform well as the team's lead running back. His workload should increase as he is still the man out of the backfield, even with the addition of Christine Michael. Starks is my singular favorite play from Sunday Night Football, but Aaron Rodgers, Jordy Nelson, Devonte Adams, and Randall Cobb are all good options in what should be a high-scoring affair. Of the receiving group, I am leaning toward Cobb, as Adams and Nelson will likely draw coverage from cornerback Josh Norman throughout the game. Jordan Reed is a great option from Washington's side as he is coming off his worst game of the season, but has a good matchup and the game flow is in his favor to benefit from a necessary passing attack..
Mario's DFS Take: Remember that guy that was so adamant about his fanbase 'relaxing' after his team's slow start that he felt the need to spell out the word, 'relax?' He's still the quarterback of the team. And his offense's production has certainly been called into question, yet again. I could only imagine what his response would be. Actually, it is not that difficult to assume. He would probably remind us that the Packers were in a similar position, last season, when they went to Washington for a playoff game after dropping back-to-back games and looking flat in the process. Green Bay exploded. On national television and at the risk of sinking further into a competitive NFC North, Aaron Rodgers and the Packers will, again, thrive. The single-best boost for the team comes in the form of James Starks, as the running back has historically been active in the passing game, as well, making him a gem for point-per-reception formats. Washington actually has quite a few offensive playmakers on which it has relied in recent weeks, but the standalone target – especially at his position – is tight end Jordan Reed, who is tied for second on the team with 63 targets, despite missing two games.
Featured Image Credit: Keith Allison/Flickr,  C.C 2.0 https://creativecommons.org/licenses/by-sa/2.0/