We pick ourselves up and dive right back into the action. After our worst week of the season for picks against the point spread, we are fully prepared to get back on the field and right some wrongs. We aren't the only ones to be doing so.
Week 6 does not necessarily provide the platform for teams to rebound in the actual standings, but a large number of games feature teams that have been buried by the spreads. Regression and returning to the mean are powerful elements, but they are enhanced when numbers are assigned to teams in games that do not impact the final score – i.e. spreads. Where Week 5 featured two regression-ready teams facing one another on numerous occasions – Atlanta at Denver, for one – Week 6 has significantly more head-to-head matchups of squads on opposing ends of the spread scale.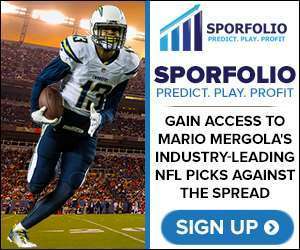 Surprisingly, given the number of teams poised to play closer games, there are barely any 'traps' laid out for Week 6. Instead, we should finally get some competitive football, as the extremists of the league are beginning to stray a bit too far.
Below are predictions for each game against the spread. Spreads have been taken from various websites and are subject to change. The spread in parenthesis denotes the selected team. An asterisk denotes a confidence pick.
*Confidence Picks – 2016 Season: 17-17 (Last Week: 2-4)
(2015 Season: 69-45-2) (2014 Season: 61-46-2)
All Picks Against Spread – 2016 Season: 39-38 (Last Week: 5-9)
(2015 Season: 143-117-7) (2014 Season: 149-114-4)
Carolina Panthers (-3)* at New Orleans Saints
Besides the read of the spreads and the strengths of weaknesses of opponents in head-to-head matchups, we are in love with the idea of following a team from a nationally-televised game one week into its encore. The Carolina Panthers are this week's highlight, as they immediately go from a home loss on Monday Night Football at the hands of the Buccaneers to New Orleans to face a Saints team coming off a bye.
The Panthers are giving points. In fact, the Panthers were always giving points. Before the loss. And after.
The opening spread was easy. Even with Cam Newton inactive for Monday's game, the Panthers were relatively heavy favorites. They were, by most accounts, supposed to win. When – not if – this happened, they would simply meet expectations and slide over to New Orleans where Carolina, at 2-3, would be favored by a modest number over a 1-3 Saints team. But what happens now that the Panthers lost?
Basically, nothing. At least, in terms of the spread. Perception is another argument, entirely.
The Monday night loss appears to have proverbially nailed the coffin shut on the Panthers in 2016. In all likelihood, proclamations that Carolina won't rebound and make the playoffs are true, but there is nothing to suggest that the Panthers are now a complete disaster. Indeed, they lost a game that looked horrible, but it was nothing more than an upset at the hands of a division opponent. One in which Carolina was starting backup quarterback Derek Anderson for the first time since 2014.
We generally praise Saints head coach Sean Payton for being one of the better minds in the sport, but he has struggled to overcome the pitfalls of his teams over the past few seasons. Once basically unbeatable following a bye week, the Saints have now lost back-to-back games after a week off, and fall to 0-4 if we count the last two Opening Days – since the preparation time was, obviously, bigger than that of a normal week. Conversely, the Panthers have won two of their last three games prior to a bye week – Carolina is off in Week 7 – with an average margin of victory of 26 points.
The Panthers rebound against the league's worst scoring defense in New Orleans with a ten point win, covering the spread.
Indianapolis Colts at Houston Texans (-3)
The Houston Texans entered 2016 as the reigning division champions over a rather nondescript bunch. Much of Houston's success was discounted by claims of weak competition and, while the same could be argued again, isn't Houston about to play a comparatively bad team?
Franchises are built around their quarterbacks, but the Colts appear to have forgotten to literally build around Andrew Luck. Injuries have not helped Indianapolis, but the inability to protect the team's best, most important player is likely the biggest catalyst for a 2-3 record – to date, Luck has been sacked twenty times, three more than the next highest quarterback. Houston's defense has accrued the seventh-most sacks in the league.
The head-to-head matchups for Sunday night's divisional showdown appear to place each team's strength against one another. The weaknesses, however, are so skewed against Indianapolis, that it is surprising the spread is actually as small as it is. If anything, the Colts are being held afloat by their name and franchise's reputation, which is exactly what we want when seeking inconsistencies.
Indianapolis' defense is non-existent, as it has allowed at least 22 points to every opponent it has faced. Houston's offensive numbers are by no means staggering, but the Texans faced the Vikings, Titans, Patriots, and Chiefs in their last four weeks. Respectively, these teams are 4th, 10th, 13th, and 21st in yards allowed. Indianapolis is 30th.
Houston extends its perfect home record on the young season with a touchdown win, covering the spread.
Click here to sign up for Sporfolio to see rest of Mario Mergola's NFL picks against the point spread. Mergola finished with the highest total of correct NFL picks against the spread for the past two seasons – tracked by NFLPickwatch, and finished 2015 with an accuracy of 60.53% for his confidence picks.
Featured Image Credit: By Mr.schultz (Own work) [CC BY-SA 3.0], via Wikimedia Commons