We love trends, and two appear to be developing in front of our eyes for our week 4 NFL picks against the point spread. Now three full weeks into the 2016 National Football League season, a handful of teams, as usual, have begun to separate from the pack. Not in the sense of running away to a division title, however, but via a team's record against the spread.
The league, as a whole, has also begun to stray from a set baseline.
For the third consecutive week, underdogs finished with a better collective record against the spread than favorites. It is no surprise, therefore, that we have also turned in three consecutive winning weeks, as this column tends to lean heavily on underdogs throughout the course of the season.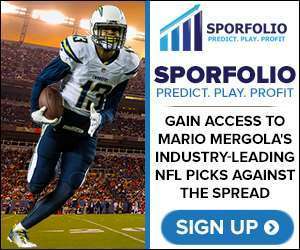 Depending on what website is used – and when the spreads are recorded – underdogs are currently thriving with a 31-17 record. As much as we would love to milk the proverbial cow forever, it will eventually run out. We will have to adjust.
Thankfully, Week 4 affords us such an opportunity. A league-wide failure by favorites, last week, presents massive 'bounceback' potential in the encore. Conveniently, a handful of these teams are paired with early-season over-achievers, allowing for spreads too small for the expected outcome.
Below are predictions for each game against the spread. Spreads have been taken from various websites and are subject to change. The spread in parenthesis denotes the selected team. An asterisk denotes a confidence pick.
*Confidence Picks – 2016 Season: 13-8 (Last Week: 5-2)
(2015 Season: 69-45-2) (2014 Season: 61-46-2)
All Picks Against Spread – 2016 Season: 28-20 (Last Week: 10-6)
(2015 Season: 143-117-7) (2014 Season: 149-114-4)
Los Angeles Rams at Arizona Cardinals (-7.5)
Like the Seahawks and 49ers in Week 3, it takes a lot to give more than one touchdown worth of points to a division rival. Such a situation, again, would require the favorite coming home after an embarrassing road loss.
The similarities between Arizona in Week 4 and Seattle in Week 3 are frightening. Seattle delivered. Now it's Arizona's turn. In fact, the Cardinals are arguably in better position to blow out a team.
The Rams offensive outburst was perfectly timed, as Los Angeles needed to trend towards the mean after back-to-back games without a touchdown – and nine total points. 37 points later, the Rams are no longer starving.
Arizona's loss in Buffalo is largely being consider the 'shock' of Week 3. It shouldn't be. The Cardinals were poised to fall apart, and Buffalo just-so-happened to be the beneficiary. The return to Arizona gives the Cardinals an opportunity to reestablish themselves as one of the league's top teams. A 'statement' is needed, and Arizona touts the perfect offense to blow out an opponent.
The Cardinals finished the 2015 regular season with the second-best point differential in the league. Winning games by a large margin was inherent to a team that loved to throw the ball deep. According to Pro-Football-Reference, the Cardinals attempted the fourth-most 'deep pass' plays in the league. The same appears to be true for 2016 – Arizona has attempted the most 'deep pass' plays – although the point differential has not followed suit. Yet.
The Cardinals win by seventeen and cover the large spread.
Kansas City Chiefs at Pittsburgh Steelers (-5)*
One of the common themes of Week 4 has been the return home for teams that were thoroughly embarrassed in Week 3. Each of the previous teams are now in position to respond via big wins, and the Pittsburgh Steelers are no exception.
It hardly matters how we – or anybody else – classify the Steelers' loss in Philadelphia. No matter how accurate any predictions were for the game, the end result was still the same – a 34-3 abomination. 34-3 cannot be explained away or justified. It is, simply, abysmal.
Don't think we will see anything close to a disaster in back-to-back weeks. Especially with the return of Le'Veon Bell to the Steelers' arsenal. Indeed, DeAngelo Williams filled in nicely, but Pittsburgh's backfield belongs to Bell, and the star running back is rested, completely healthy – he is no longer returning from an injury – and will be the centerpiece of an all-out attack. In addition, it wouldn't be an outright 'shock' if the Steelers finally utilized their preseason plan of attempting two-point conversions after each touchdown. After all, Pittsburgh has high long-term aspirations and is now chasing a 3-0 Ravens team.
The Steelers win by seventeen and cover.
Featured Image Credit: By SteelCityHobbies (Flickr) [CC BY 2.0], via Wikimedia Commons
Click to here to sign up for Sporfolio to see rest of Mario Mergola's NFL picks against the point spread. Mergola finished with the highest total of correct NFL picks against the spread for the past two seasons – tracked by NFLPickwatch, and finished 2015 with an accuracy of 60.53% for his confidence picks.