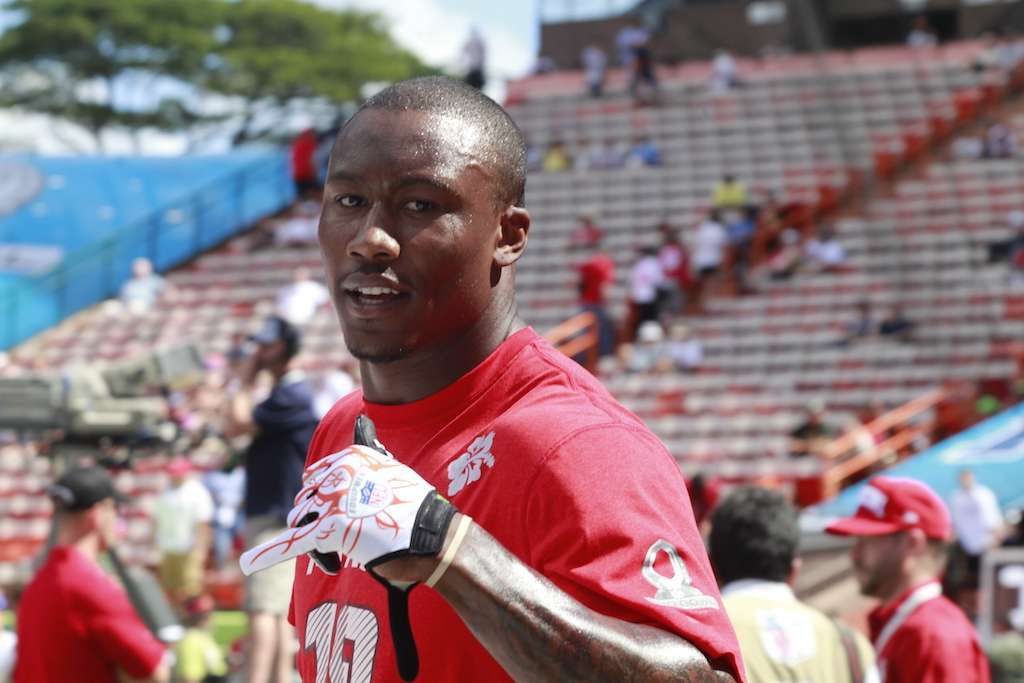 Latest posts by Matt Dulcan
(see all)

The publicity of Brandon Marshall's emotional issues have once again left him being undervalued. I grabbed him in every draft I did last year in the 5th round which was ridiculous. His ADP is now hovering around the the late 2nd and early 3rd, which is actually still a value. These are Brandon Marshall's fantasy finishes in the last eight years in standard scoring:
2015 WR3, 2014 (13 games) WR33, 2013 WR6, 2012 WR2, 2011 WR13 2010 WR28(14 games), 2009 WR9, 2008 WR11.
This means his average finish is as the WR7.33 over the past 8 years in seasons he played 15 or more games. That is alarming. I never come into a draft looking for safety, but this guy is just purely consistent and comes with insane upside, producing at an elite level year after year in varying circumstances.
This year he will end up in the higher end of the spectrum, now that the Jets have finally bit the bullet and signed Ryan Fitzpatrick(1 year $12 million). How do I know? I used the Rotoviz game splits app and separated all the games Ryan Fitzpatrick played in with Brandon Marshall. First, let's look at Brandon Marshall's statistics over the same span in which he averaged the WR7.33(including the seasons he played 13 and 14 games).
Next lets compare that to Marshall's numbers with the Fitzmagic at the helm. This chart may surprise you with Ryan Fitzpatrick's perception by the general populace(I had to separate the charts because of games Marshall was on the opposite team of Fitzpatrick).
In the games played with Ryan Fitzpatrick at quarterback, Brandon Marshall averaged 3.18 more standard scoring fantasy points per game, 14.16 more reception yards, and .3 touchdowns per game. That is an incredible jump in production in terms of averages. The best part is that Brandon Marshall is in near the exact same situation this year.
Every year it seems the case is made that Brandon Marshall is getting older and will not produce at the same level as prior. Even if you believe he will regress some due to age, which I don't, his 6′ 4" frame will always enable extreme red zone potential. Special players like Marshall are not the average player anyways. Brandon Marshall has produced without stop throughout his career and Mhe is only 32 years old.
In addition, if the weight loss narrative is one you adhere to, he came into camp at 224 pounds this year, 10 lighter than his usual playing weight. We have seen many players in various sports take on a lighter playing size to enable top end performance late in their career, such as LeBron James. He also just has the X factor, he gets It done. Anyone who has watched Marshall voluminously understands this. His has the determination to be great and succeed in difficult situations week to week.
He has it all, the special sauce, the quarterback he has had the most fantasy success with in his career, and an ADP that is below where it should be. Brandon Marshall is still a value, and you can catch me scooping him up in your local MFL10s and in all my personal leagues, and I suggest you do the same!
Featured Image Credit: By Cpl Jody Lee Smith [Public domain], via Wikimedia Commons