A full night of baseball features the return of Jose Fernandez and Noah Syndergaard's sub-2.00 ERA. In addition, a few strikeout pitchers have excellent matchups, setting up for some high-upside plays.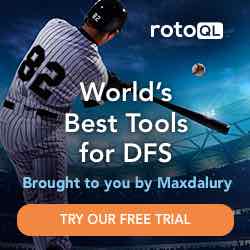 Currently, we are using xFIP and wOBA simply to compare one pitcher's performance against another – especially against opposite-handed hitters. We aren't using these numbers for calculation. To help with some calculations, we have assumed that each hitter and pitcher has played at least one game. Each pitcher was assigned an innings total relative to his average projection.
Check the starting lineups and weather reports prior to making any plays, as these change without notice.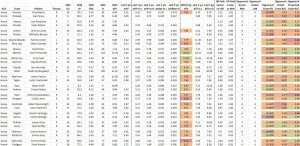 Projected Low-Scoring Games
Atlanta Braves at Miami Marlins – Jose Fernandez was absolutely cruising in his last start before a bad inning knocked him off track. In essence, this was a microcosm of his season, as Fernandez had posted a 0.66 ERA over his previous six starts before allowing four earned runs in six innings now more than one week ago. He should bounce back with a fantastic outing against the low-scoring Braves. Bud Norris is not to be overlooked, as his 4.81 ERA on the year is completely deceiving. Since returning to the rotation three starts ago, Norris has allowed only five earned runs for an ERA of 2.65. Most importantly, Norris competed with Clayton Kershaw in early June for a five-inning, one-run outing. He stands to benefit, again, via a matchup with a 'top ace' in Fernandez.
Targets: Jose Fernandez and Bud Norris
Tampa Bay Rays at Cleveland Indians – Two of this column's go-to pitchers square off against one another on Tuesday night. Corey Kluber and Blake Snell will meet in Cleveland for a game that should yield a high number of strikeouts. Specifically, the Rays have the second-highest team strikeout rate in the league, while Kluber averages a hair more than one strikeout-per-inning. Snell is, once again, limited by his potential pitch and innings cap, but both arms should thrive for their time in the game. As noted in the past, another strength of Kluber is his length in games, as averages 6.68 innings-per-start.
Targets: Blake Snell and Corey Kluber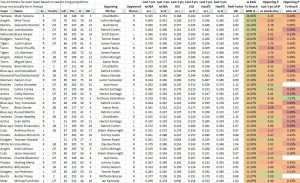 Projected High-Scoring Games
Chicago White Sox at Boston Red Sox – Typically, a game featuring Chris Sale slides into the 'low-scoring' category, and often gives a boost to his opponent on the mound, as well. This is not the case on Tuesday, as Sale and Clay Buchholz are scheduled to compete in a game with a suspiciously high over/under run total. Especially the day after a combined two runs were scored through nine innings – four total runs by the time the game ended – hitters should enjoy a more respectable outing.
Targets: Chicago White Sox Hitters, then Boston Red Sox Hitters
San Diego Padres at Baltimore Orioles – At the risk of targeting a game that appears 'too easy' at first glance, the Padres and Orioles should provide an explosion of runs on Tuesday night. Tyler Wilson's 4.16 ERA – fairly high in its own right – is more than half of his opponent's – 8.79 ERA for Luis Perdomo. Wilson does have a low enough strikeout rate to use San Diego's hitters, but offensive fantasy points should be abundant in Baltimore.
Targets: San Diego Padres and Baltimore Orioles Hitters
Undervalued Plays
Cincinnati Reds Hitters – While Colby Lewis sports an impressive 2.81 ERA, he draws an oddly dangerous matchup against the Reds. Lewis has one of the lowest strikeout rates among Tuesday's starting pitchers, thus negating the Reds' propensity to strike out. After getting shut out in a hitter's park on Sunday, Cincinnati's offense should assimilate nicely into Texas and provide a cheap source of runs and fantasy points.
Sonny Gray – Sonny Gray's 2016 campaign has been less-than-stellar, but the Athletics' 'ace' has a fantastic matchup on Tuesday night against the most strikeout-prone team in the league. His 5.54 ERA is more than two runs higher than his career average of 3.20, and hosting the Brewers in a pitcher-friendly ballpark is the remedy Gray needs to get back on track. Sonny Gray is arguably the best dollar-for-dollar pitcher of the night.
Photo Credit: Arturo Pardavila III, Flickr, C.C. 2.0