Wednesday brings another full day of baseball, including a few afternoon games that can stand alone as an early slate. In addition, Tuesday's breakdown included targeting left-handed hitters against Julio Teheran. With Teheran being pushed back to start on Wednesday, the same logic applies.
Currently, we are using xFIP and wOBA simply to compare one pitcher's performance against another – especially against opposite-handed hitters. We aren't using these numbers for calculation. To help with some calculations, we have assumed that each hitter and pitcher has played at least one game. Each pitcher was assigned an innings total relative to his average projection.
Check the starting lineups and weather reports prior to making any plays, as these change without notice.
Everywhere you turn, there is a Cleveland pitcher with high strikeout potential. Wednesday's spotlight is on Danny Salazar, pitching against the Mariners. As noted in Tuesday's write-up, Seattle actually strikes out at a relatively acceptable rate, but they hardly score enough runs to threaten opposing pitchers. Perhaps the most enticing part of the matchup is that right-handed Salazar is actually tougher on left-handed hitters. This bodes well for Salazar, as he will pitch to a lineup that could include any combination of Robinson Cano, Kyle Seager, Norichika Aoki, Seth Smith, Adam Lind, and Leonys Martin, to name a handful.
The matchup between Zack Greinke and Madison Bumgarner features two 'aces' performing below their respective averages. Both post high strikeout rates, but the praise stops there. Thankfully, throwing in San Francisco's pitcher-friendly ballpark should aid both arms, and either are viable for Tuesday's slate. Bumgarner gets the edge thanks to his history of pitching deep into games – something that has not yet happened in 2016.
Despite sitting atop the strikeout leaderboard for pitchers starting on Wednesday, Chris Archer will be approached with trepidation. Unfortunately, the matchup is not in his favor, as the Red Sox are one of the highest scoring teams teams in the league and were just shut out. Why, then, should we consider Archer? Simply put, the expectation – and, therefore, the price – has slowly crept downwards, and Archer is now a bargain. His ERA may be high, but he still strikes out a ridiculous amount of batters, and has as high a floor as anyone pitching on Wednesday.
Of all the matchups that jump off the page, Chris Sale against the Angels should appear to be intriguing. The reality, however, is that Sale – a top-notch strikeout pitcher – is facing an Angels team that hardly ever strikes out. Indeed, they don't score, but they also put the ball in play. With that, the ideal pitcher in this game is actually Garrett Richards, strikeout-savvy in his own right, and facing an equally-inept White Sox lineup.
Another day, another recommendation to buy the pitcher that opposes the Phillies. For Wednesday, said arm belongs to Bartolo Colon. Colon was recommended in his last start, as well, and was somewhat underwhelming. Still, Colon delivered five strikeouts and allowed only his second and third earned runs of the season. With the pitiful offense that Philadelphia brings to the plate, Colon should, at least, reach his basement projections with ease.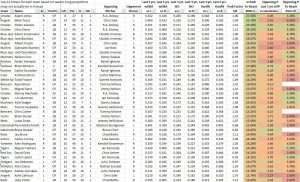 Bryce Harper/Ryan Zimmerman/Jayson Werth/Anthony Rendon – Bryce Harper has entered dangerous territory, yet again. With seven home runs on the season, he is performing at a truly unsustainable pace. Then again, he did the same thing last year, as he outlasted all signs of regression. A matchup against a left-handed pitcher should result in the fading of Harper, but Bruce Chen – as detailed in his last start – has poor numbers against left-handed hitters. Harper remains a viable option, with Ryan Zimmerman, Jayson Werth, and Anthony Rendon on the radar.
Chris Carter/Ryan Braun – Southpaw Tommy Milone has a low enough hard hit percentage against right-handed bats to not expect too many home runs to be allowed, but the rest of his peripherals give a boost to the likes of Chris Carter and Ryan Braun. Braun has the higher likelihood of delivering an overall good game, but Carter gets the edge in the power department, hence the disparity in price.
Chris Davis/Adam Jones/Pedro Alvarez – With such a high expected home run total over the course of the season, Chris Davis will likely always remain a top option – unless he goes on an unsustainable tear. He is joined by Adam Jones and Pedro Alvarez – the latter two have a combined one home run – as they face R.A. Dickey. Dickey limits hard contact – likely via the use of his knuckleball – but hitters should be used against him, nonetheless.
Brian McCann/Carlos Gonzalez – Whenever a top target from the previous day fails to record a hit, he should remain a consideration as long as the situation hasn't worsened. For Brian McCann and Carlos Gonzalez – a combined 0-for-9 with two strikeouts on Tuesday – Wednesday brings another opportunity to buy the pair of hitters in solid matchups. McCann is particularly appealing thanks to his relatively low price.
Mike Trout – Mike Trout is another carry-over option from the previous day, as he was, indeed, shut down by Mat Latos. Unfortunately, Trout draws Chris Sale on Wednesday. Assuming the Angels have any sort of rebound from their shutout, Trout is expected to benefit.
Adrian Gonzalez/Corey Seager/Chase Utley – The target of left-handed hitters against Julio Teheran from Tuesday's article carries over to Wednesday. Any combination of Adrian Gonzalez, Corey Seager, and Chase Utley should be used, especially following a one-run dud from Los Angeles.
Bargains
Be sure to check the above chart for more of the expensive hitters – and the statistics of their matchups. Below, we focus on some of the best upside plays for their price.
Wilson Ramos/Danny Espinosa – With nearly all Nationals getting a boost on Wednesday, Wilson Ramos and Danny Espinosa top the list of cheap power options. If Harper cannot be afforded, Ramos and Espinosa offer great alternatives to paying up while still reaping some of the rewards.
Scooter Gennett/Domingo Santana – Like Braun and Carter, Scooter Gennett and Domingo Santana stand to benefit from facing Tommy Milone. For a fraction of the price of their teammates, if Gennett or Santana bats at the top of the lineup, he must be considered.
Zack Cozart – Zack Cozart continues to see a discount in price, despite a torrid start to the season. Facing Chad Bettis in a hitter-friendly ballpark should yield opportunity to buy the Reds' shortstop.
Featured Image Credit: Flickr User S.D. Dirk https://en.wikipedia.org/wiki/File:Madison_Bumgarner_on_September_3,_2013.jpg