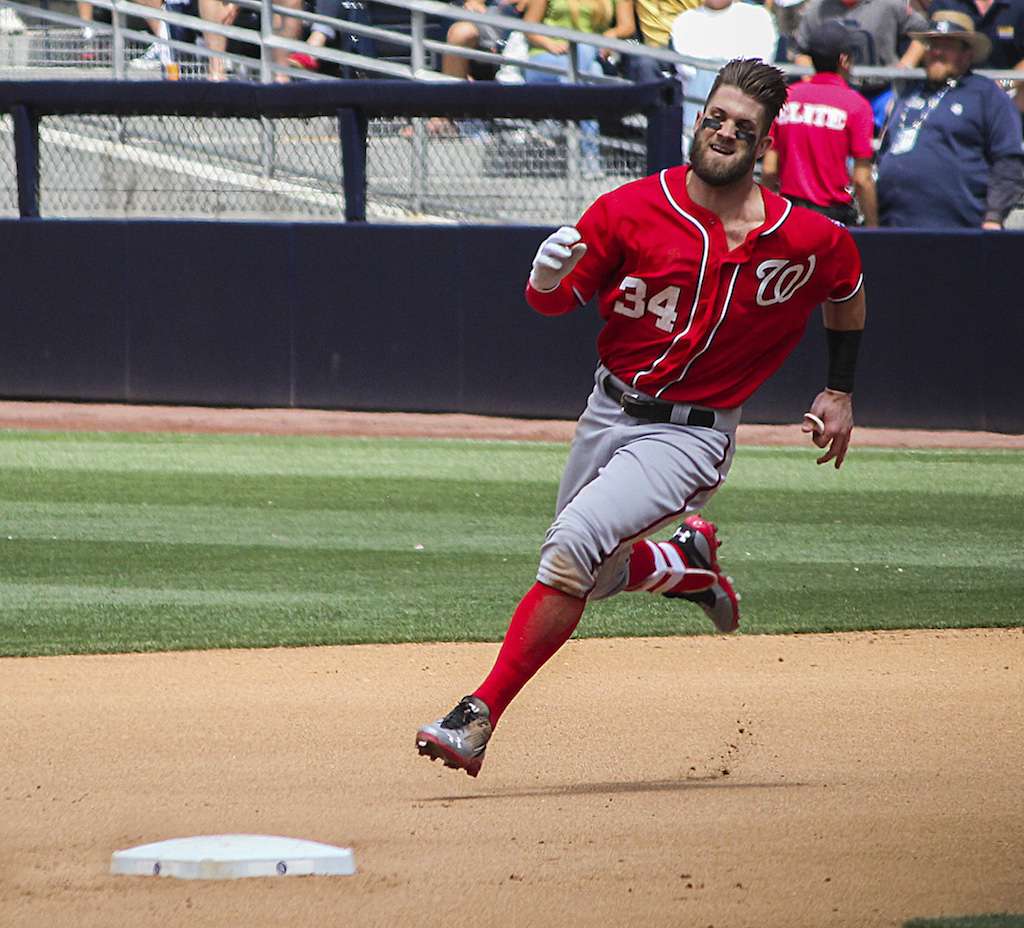 Latest posts by Mario Mergola
(see all)

Monday's earliest game – Astros at Yankees – has already been postponed due to rain, lowering the number of games down to twelve for the full slate. Thankfully, the pitcher's pool is loaded, regardless, as each team will send its relative 'ace' to the mount. Of course, this weakens hitters across the board.
Currently, we are using xFIP simply to compare one pitcher's performance against another. We aren't using these numbers for calculation. We are also pulling some statistics – such as team strikeout rate – from last season's totals until a better foundation is built in 2016. To help with some calculations, we have assumed that each hitter and pitcher has played one game. Each pitcher was assigned an innings total relative to his average projection.
Read More: MLB DFS Game Theory For April 4
Check the starting lineups and weather reports prior to making any plays, as these change without notice.
Since most staff aces earned their reputation through high strikeout totals, their fantasy value will largely be driven by their opponent – and last year's team strikeout rates. The first few that stand out are Madison Bumgarner, Cole Hamels, Rasiel Iglesias – especially against right-handed batters – Garrett Richards, and, of course, Clayton Kershaw.
If playing in a smaller slate Monday, Bumgarner and Kershaw are 'must-plays' for their respective slates given their matchups. Even at their high price, they are strikeout machines facing the Brewers and Padres, respectively. Bumgarner gets an extra boost for his win potential.
Cole Hamels' opponent – Felix Hernandez – limits his win potential, and the hitter-friendly park in which he will pitch inflates the opportunity of a high-scoring affair. Hamels' risk is too high to offset his reward with as many pitching options as Monday brings.
Arguably the best 'sneaky play' of the day is in the form of Garrett Richards, pitching at home against the swing-happy Cubs. Indeed, Chicago's offense is scary as a whole, but they are the team playing Monday with the highest strikeout rate from 2015. Richards isn't on the same level of his opponent – Jake Arrieta – which will limit his win potential, but it also deflates his price. Furthermore, the addition of Andrelton Simmons at shortstop might provide the biggest impact to Richards' fantasy value.
Devin Mesoraco/Wilson Ramos – Catchers are at a distinct disadvantage Monday, as the top options – Buster Posey and Kyle Schwarber – and priced well above the average. In addition, Posey is recently recovering from the flu, and Schwarber is facing our 'sneaky play' of Garrett Richards. The highest upside play – at a nice price, too – is Devin Mesoraco against Jeremy Hellickson. Wilson Ramos is equally as attractive, but the matchup against Julio Teheran pushes him behind Mesoraco on our depth chart – to be used if money savings are needed or weather impacts Mesoraco's game.
Pedro Alvarez/Paul Goldschmidt/Chris Davis – Chris Davis and Paul Goldschmidt lead the first basemen by a significant margin and, if either can be afforded, they have incredible potential. Assuming either is too pricey, however, Pedro Alvarez in Baltimore is a perfect fit for cheap power – as long as he is starting. Davis might even be worth slotting into an outfield position if he fits in the budget.
Anthony Rendon – As expected, Brian Dozier's price is so inflated due to his matchup that he is likely unable to fit in any lineup. The standout in the next tier of second basemen – in both price and upside – is Anthony Rendon. Largely forgotten through the injuries, Rendon appears healthy and ready to start contributing for a solid Nationals lineup.
Miguel Sano/Evan Longoria – Like most Twins, Sano's power potential for the Monday is off the charts. His price is naturally high, but his matchup is one of the best. Of course, Rendon can also be slotted at 3B if a better 2B option fits. In addition, Evan Longoria makes the list for a second consecutive day, and his price is too good to ignore.
Jimmy Rollins/Eugenio Suarez – Facing Sonny Gray is not preferable, but Rollins should bat towards the top of a relatively solid lineup. At shortstop, runs are paramount, and Rollins' price makes him a steal on Monday. If money is not an issue, Eugenio Suarez – who may make the list often, this season – is severely undervalued.
Bryce Harper – Indeed, his price is high – although reasonable considering the options – but Harper is a must-start against Teheran. The ballpark doesn't do Harper any favors, but he mashes right-handed pitching. In addition, Teheran is much better against right-handed hitters than lefties, and his projected total for home runs allowed is the highest against any of our top-ten hitters on Monday.
With the amount needed to field a lineup with today's stars, there needs to be at least one cheap option to use. These players are a risk to not start – or be pulled for a pinch hitter later – but they are a necessity to consider.
Chris Colabello/Logan Forsythe/Adam Duvall – Colabello provides power potential against a left-handed pitcher who must navigate through the rest of Toronto's lineup. Colabello will likely see better pitches than his teammates, as he appears to be the first weak link in the lineup, and gain opportunities with men on base. In the same game, Logan Forsythe should reap the rewards of sitting atop the Rays lineup, and comes at a nice value for the second day-in-a-row. Finally, Duvall is rumored to be starting against Hellickson, and is an all-or-nothing home run play for his price.
Featured Image Credit: By Johnmaxmena2 (Own work) [CC BY-SA 4.0], via Wikimedia Commons