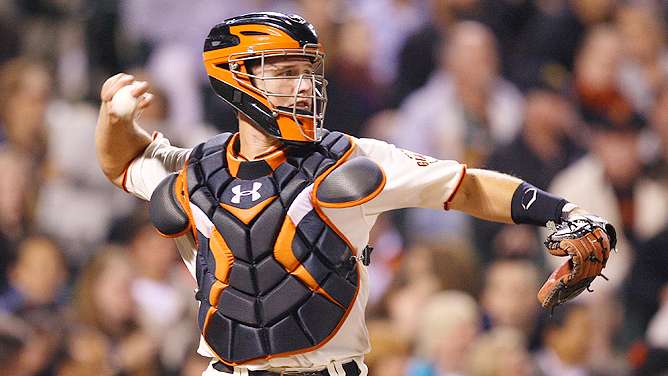 Latest posts by Felipe Melecio
(see all)

With only days away from pitchers and catchers reporting, we take a final look at the 2015 Major League Baseball season as we list the best of the best of last year.
FUBAR
FUBAR stands for Felipe's Ultimate Baseball Advanced Rankings and it combines the following criteria to come up with what it believes to be the best, overall baseball players:
Hitting
Power
Plate Discipline
Base Running
Fielding
Using this criteria, we will list out the best position players of the 2015 campaign. Also, we will be revealing FUBAR's Top 20 players of 2015 throughout this article:
We've listed our best defensive and offensive players in the 2015, Major League Baseball season. And now the time has come to combine both entities and name our best, All-Around Baseball team of 2015.
[Preparing For Your Fantasy Baseball Drafts? Try The Mock Draft Simulator On XN Sports]
ALL-RADIUM TEAM
Our radioactive team is as follows:
PLAYERS 11-15
So now that we have listed the best players at every position from last season, let's go back to our FUBAR overall rankings:
15. Miguel Cabrera–Without a doubt, Miggy will go down as one of the best hitters of his generation.
14. Adrian Beltre–The "Ageless" Beltre is still a tough guy to strike out, can still run the bases well, and is still one of the best gloves in baseball. In a recent episode of The Men Up North Podcast, it was agreed upon that Beltre should be in the Hall of Fame when all is said and done.
13. Nolan Arenado–From one third baseman cementing his legacy in the game, to a new guy who finally figured it out last season. His fielding is never in question, but Arenado proved to be one of the better power-hitters in baseball.
12. A.J. Pollock–Our starting center fielder in our All-Radium Team, Pollock was overmatched when comparing his numbers to the rest of baseball. Regardless, Pollock made a name for himself last season and is one of the big reasons the Arizona Diamondbacks have a lot of hype coming into the 2016 season.
11. Yoenis Cespedes–Our starting left fielder in our All-Radium Team, Cespedes' bat proved to be the spark that was needed in the New York Mets' lineup, en route to the World Series. Cespedes will be back for at least one more season as the team looks to make another deep, postseason run.
BEST FIELDER
As mentioned in the best defensive players showcase, we used two defensive metrics to measure fielding. So we listed our best fielders by position, but now we will name our best of the best, top defensive fielder in all of baseball. As mentioned before here, Kevin Kiermaier finished head and shoulders better than anyone in 2015. Here's how the rest of the list broke down:
Kevin Kiermaier
Yoenis Cespedes
Lorenzo Cain
Brandon Crawford
Adrian Beltre
Kevin Pillar
ULTIMATE STARTING ROTATION
For an explanation on how we come up with our best rotation, be sure to check out last season's Ultimate Starting Rotation.
First Rotation
Second Rotation
BEST BASE RUNNER
As explained in our All-Offensive entry to the 2015 almanac, players don't have to steal a lot of bases to be considered good, efficient base runners. It just so happens that our top base runner stole a lot of bases. A.J. Pollock finished with a Steal Rate of 85 percent, stealing 39 bases on 46 attempts. Pollock also finished with a whopping 111 runs in 2015. Here's the rest of the list:
A.J. Pollock
Kevin Pillar
Adran Beltre
Jason Heyward
Lorenzo Cain
PLAYERS 6-10
10. Andrelton Simmons–Always a controversial name in these rankings, "Simba" is not going to impress anyone with his offensive production. But Simmons is the best defensive infielder in baseball and is a decent base runner as well. Where Simmons got a boost was the numbers showing him to be a very tough player to strike out. Simmons finished second in lowest K% behind postseason hero, Daniel Murphy.
9. Edwin Encarnacion–A great approach at the plate results in great power numbers for Double-E. He would finished with 39 home runs and drive in 111 RBI along with a slash line of .277/.372/.557.
8. Jason Heyward–The big prize and most sought-after free agent of this winter, Heyward signed with the Chicago Cubs as Theo Epstein and Company continue to outsmart all of baseball with their front office maneuvers. A solid approach at the plate, Heyward brings untapped potential with the bat. Combined with his speed, Heyward could be an ideal leadoff hitter. The big contribution to the team will be with his glove as Heyward's defense has been among the very best of all of baseball. Since 2010, Heyward is number one in both DRS and UZR defensive metrics.
7. Chris Davis–He strikes out a lot (highest K% among all qualifying hitters), but he can draw walks and hit bombs. He hit 47 home runs and drove in 117 RBI and posted a ridiculous ISO of .300. He was rewarded this past offseason with a gargantuan contract from the Baltimore Orioles. With his skill-set and the tiny ballpark he will be calling home for the next seven years, Davis should continue to mash with his big bat.
6. Josh Donaldson–The American League MVP is a great hitter, fielder, and interestingly enough, a pretty good base runner. He posted 41 home runs, drove in 123 RBI, and crossed the plate for 122 runs. All of this while making little over $4 million in 2015.
BEST PLATE DISCIPLINE
Best Walk Percentage: Joey Votto
Lowest Strikeout Percentage: Daniel Murphy
Best Walk:Strikeout Ratio: Michael Brantley
Those three names were the epitome of plate discipline in 2015.
But when putting all three of those stats together, the best showcase of plate discipline were the following players:
Joey Votto
Michael Brantley
A look at their discipline figures, of the 143 players that qualified for this exercise, both players ranked in the top 30 in Lowest Swing Percentages. Brantley had the lowest Swinging Strike Percentage (3.1 percent) in baseball last season, while Votto, despite ranking 35th in Percent of Pitches Seen in Strike Zone, had the lowest Swing Percentage Outside the Strike Zone (19.3 percent).
Ultimate Bullpen
A quick look at our Ultimate Bullpen from the 2015 season, based on FIP and SIERA:
First Bullpen
Kenley Jansen–One of ony three players to finish with a Strikeout Percentage above 40 percent
Segio Romo
Second Bullpen
TOP FIVE PLAYERS OF 2015
5. Joey Votto–As explained earlier, Votto has the best plate discipline as he rarely swings at a pitch he does not like. It is why explodes on umpires over balls and strikes. He probably knows the strike zone better than a lot of umps. His patience has frustrated fans, but last season, he was among the league leaders in Weighted On-Base Average (wOBA) and proved to be on of the most dangerous hitters in baseball.
4. Jose Bautista–A controversial selection here, but there is no doubt that a big part of Donaldson's MVP award was Bautista being part of the Blue Jays' lineup. Hitting 40 home runs, 114 RBI, and scoring 108 runs of his, he complemented the counting stats with an impressive OPS of .913. Bautista also had one of the best Walk Percentages in baseball as his approach was one of the best last season.
3. Mike Trout–What else has not been said about Trout that many have said already? A once-in-a-generation player, theoretically should be a four-time MVP recipient, Trout is still young enough to get better. A very scary notion. Trout gets kudos for being an extraordinary hitter and a dependable source of power with a respectable Walk Rate. Trout's base running (not speed) is slowly fading away in terms of importance as he sacrifices his all-around game for the good of his team (becoming a more prolific power-hitter), but he should continue to be on of the best players in baseball for years to come.
2. Paul Goldschmidt–A premier power-hitter with a great batting eye, a surprisingly good base runner, and ranking highly on defense, Goldschmidt is redefining the idea of what a great, all-around player should look like. The counting stats are obviously impressive, hitting 33 home runs, driving in 110 RBI, and stealing 21 bases. The slash line of .321/.435/.570 is other-worldly. At only 28 years-old, Goldie can be expected to continue to be among the very best in baseball for the forseeable future.
1. Bryce Harper–The soon-to-be $400 million man? Don't sell him short! Harper was without a doubt the best hitter in baseball last season. He finished fourth in our plate discipline rankings despite seeing the fewest pitches inside the strike zone last season (38.5 percent). Had the best Isolated Power (ISO of .319) and wOBA (.461) of any hitter in 2015, yet still was able to not be a liability on the base paths (UBR of 3.1). Entering his age 23 season in 2016, it's nearly impossible to not think of the exciting things Harper will do this upcoming season.
Featured Image Credit: Buck/Flickr https://www.flickr.com/photos/buckaroobay/5051382455/in/photostream/